A Feature on Mangroves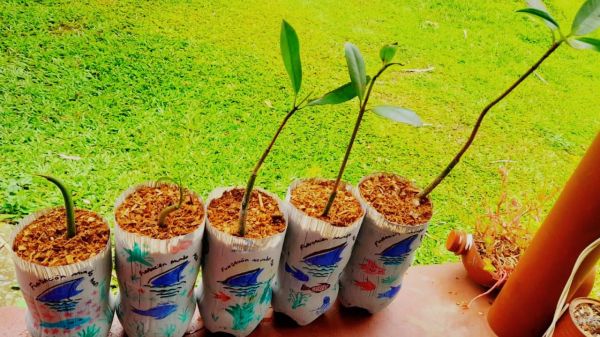 Mangrove forests are known for their capacity of giving a safe shelter to many fish, crustaceans, mollusks, and even sharks at their earlier stages of life. They are also known to be the first terrestrial barrier to storms and hurricanes, protecting coastal communities around the tropics.
But what is not well known, is their outstanding capacity of absorbing carbon from the atmosphere and thus, regulating our climate. 
Community-based mangrove restoration is considered to be an amazing tool for tackling climate change and at the same time, promoting blue economies through ecotourism. Mangrove forests capture up to 5 times more carbon than rainforests. In return, they produce plenty of oxygen for us to breathe and at the same time regulate our planet's climate.
Although we already have lost more than 50% of our original mangrove forests, many NGOs, citizens, and governments are restoring this ecosystem by planting mangrove trees around the world. Besides mitigating climate change, mangrove forests protect vulnerable communities such as Caribbean coasts and islands from floods and hurricanes. They also promote work on ecotourism activities. Mangrove restoration is one of the best tools to mitigate climate change, protect vulnerable communities, and promote blue economies worldwide.
As environmental educators, we should teach about this vital ecosystem that surrounds most of our countries. We should teach about the importance of restoring marine ecosystems by creating community-based restoration programs and E-STEAM activities involving schools and families, empowering ecotourism and the emergent blue economies. 
What E-STEAM methodologies do you propose to teach our students about mangrove forests?
Share in the comments!
Carlos Eduardo Pérez Murcia 
"Profe Tiburón"
Image © Fundación Mundo Azul 
References: Chatting M, Al-Maslamani I, Walton M, Skov MW, Kennedy H, Husrevoglu YS and Le Vay L (2022) Future Mangrove Carbon Storage Under Climate Change and Deforestation. Front. Mar. Sci. 9:781876. doi: 10.3389/fmars.2022.781876