ee360+ NAAEE 2022 Conference Scholarships Provide Optimism, Connections, and Inclusion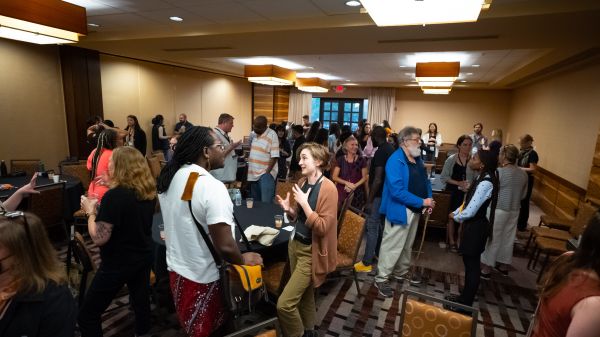 After three years of virtual gatherings due to COVID-19 precautions, NAAEE hosted its 51st annual conference in person in the heart of the Sonoran Desert in Tucson, Arizona, and online. The theme of this year's conference was "Educating for Change." Many of the sessions and workshops centered around resiliency in an age when the impacts of climate change are causing communities to shift the way they think about resources, ecosystems, and social justice. Being in the Sonoran Desert, where species thrive on limited resources, many of our participants conveyed that they left feeling optimistic and ready to share resources and ideas from the gathering with their communities.
On the opening night, our keynote speaker Dr. Robin Wall Kimmerer said, "The foundation of education is to discover that gift within us and learn to use it well." NAAEE recognizes the importance of creating spaces where everyone can explore and share their gifts, as well as learn new tools to create this foundation for others, as we work together towards solving the climate crisis and creating a more just and sustainable world.
This year, NAAEE and the U.S. EPA provided over thirty ee360+ scholarships to help make the conference more accessible. Professionals and students who showcased their work in communities impacted by environmental injustice and climate change could attend the in-person event thanks to this funding. Over ninety percent of recipients were able to attend in person and participated in professional development, leadership growth, and networking opportunities. The ee360+ program is funded by the Environmental Protection Agency (EPA), an instrumental partner that supports NAAEE's initiatives and goals.
We spoke to a few recipients and are highlighting their key takeaways in hopes of inspiring others to continue to connect with each other at events and online and keep optimism alive in their work. Several themes emerged from their feedback, including climate anxiety, justice, equity, diversity and inclusion work, civic engagement, linking research to practice, and building leadership for environmental literacy.
Workshops That Inspire
The conference offered great opportunities for researchers and practitioners alike. Throughout the conference, workshops focused on race, justice, and sustainability.
Jennifer Santry is a doctoral student in the Educational Sustainability program at the University of Wisconsin Stevens Point. Her research is a celebration of the interconnectedness between Native identity and the land, elevating Indigenous knowledge and voices of the Očéti Šakówiŋ. Through Lakota stories and reflections, she is exploring how spiritual and cultural practices are rooted in food and land-based connections, such as gardening, supporting her buffalo relatives, protecting sacred plants and medicines, saving and sharing seeds, and teaching our people the true history of our culture including what it means to be Lakota.
After attending the "Using Land-Based Healing Approaches in Addressing Well-Being of Urban Khmer Youth" with Thyda Ros and Stephanie Ung, Jennifer gained insight into ways of connecting Elders with youth to collectively address health, trauma, racism, and identity in the community. "They provided inspiration and hope for how communities can come together through land-based practices such as gardening to heal and grow together." This work relates to environmental education because it centers on Unci Maka (Grandmother Earth), is grounded in intergenerational knowledge and experience, and fosters healing of the land and the people.
Climate Change and Opportunities
Becca Myers is a community-based learning coordinator for the non-profit organization, Experience Learning. She works with schools to implement project-based learning and environmental education for students in public school classrooms across West Virginia. Her experience as a practitioner conveys the importance of meeting in person and sharing resources that will be implemented in her home state.
"I thoroughly enjoyed workshops that provided curriculum inspiration and lesson plan samples, such as Project WET, Project WILD, and Project Learning Tree, as these topics all directly align with the content we currently teach. Encountering new resources that could be used to enhance our program's effectiveness, such as different databases to compile our citizen science collections and making connections with educators with the same goals, was just the icing on top, stoking many great conversations and ideas."
"The opportunity to attend this conference is one I would not have otherwise had, so I am extremely grateful to have gotten to take part. I, without a doubt, took a lot more back with me to our mountain state than what I left with, and if everyone left with that same experience, then the world is an even better place for it." Becca also found NOAA's Green Job and MWEE sessions and the climate literacy sessions incredibly helpful. They provided a scope for when to move forward in program development to increase environmental literacy within our next generation of students.
It was a similar feeling for Annie Montes, an educator with the Bosque Ecosystem Monitoring Program (BEMP) in New Mexico. She elaborates on how the conference left her optimistic and eased her anxieties about climate and social issues. "I was able to see that many educators share the same anxieties that I have. This made me feel like climate anxiety and concerns over social/emotional learning are very real, and many of us think about these issues." She found the workshops focused on social and emotional learning and climate anxiety most compelling and helpful.
NAAEE's commitment to advancing equity and inclusion in the environmental education field was evident at the conference by supporting strategies and programs that focused on diversifying our audiences as well as our workforce, building cultural competence, supporting environmental justice, engaging with new audiences, forging new and lasting partnerships, honoring traditional knowledge, and increasing our reach and relevance throughout society. We thank the U.S. EPA for their support through these scholarships. We hope you'll join us for our virtual conference in 2023! And learn more about ee360+ here.