Ocean Wise Ocean Plastics Education Kit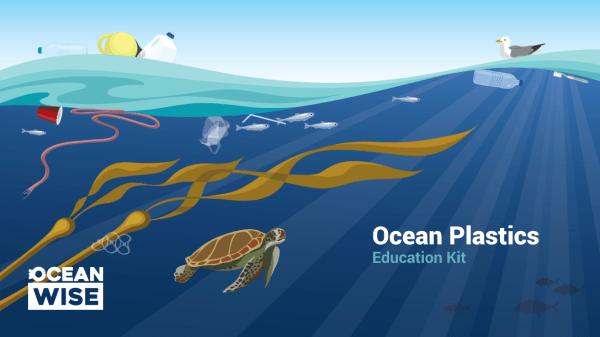 400 million tons of plastic is produced every year, 36% of which is designed for single use or packaging. Of that number, only 9% is recycled. It's fair to say that plastics are everywhere, including the ocean. In fact, approximately 13 million tons of plastic enters oceanic currents annually. Plastic has become a pillar of modern life. It's going to take a deep, transformational change in humanity's consciousness and activities regarding the ocean to break the plastic pattern.
At Ocean Wise, we believe this is possible! But we need your help. By relating socio-economic and scientific concepts such as watershed and ocean currents, food chain interactions, and the greenhouse gas effect, youth will learn the history of plastic, how it transformed our consumer habits, how it harms ocean health, exacerbates the current climate crisis, and how they can protect our ocean from further plastic pollution and restore the ecosystems already affected. Through this education kit's activities, students will be given the knowledge, tools, and skills to break their plastic pattern and become leaders of change – and this all starts in your classroom.
The Ocean Plastics education kit, like all others, is available for elementary school (grades 3 to 6), middle school (grades 7 to 8), and high school (grades 9 to 12), and translated in both French and English. The educator's guidebook provides detailed guidance on how to conduct classroom activities and how the activities are linked to the concepts of their specific course curriculum. Students are provided with a workbook to complete age specific fun, interactive activities such as online games, collages, discussions, and more.  
ACCESS THE OCEAN PLASTICS EDUCATION KIT FOR FREE HERE.