Outdoor Learning Environments Conference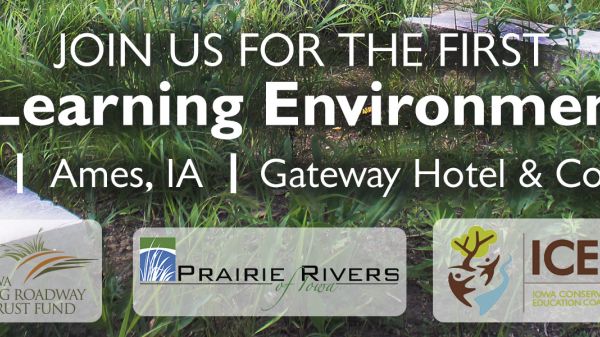 The Iowa Conservation Education Coalition and Prairie Rivers of Iowa invite educators, conservationists, community leaders, landscapers, and others that value outdoor education to our inaugural Outdoor Learning Environments Conference, June 18-19 at Gateway Hotel & Conference Center in Ames, Iowa!
We define Outdoor Learning Environments (OLEs) as deliberately designed outdoor spaces that provide an intentional setting for exploration, inquiry, and learning to empower environmental literacy and education in any discipline. An OLE can be located at a  school or other community location like a library, park, protected natural area, or other places where the outdoor setting can enhance educational opportunities for youth and community members.
At the conference, you will learn how to make your outdoor space more intentional for STEM learning through design and creative lessons and programs. If you do not already have an outdoor learning space, you will learn how to establish, maintain, and gain community support to sustain your new OLE. The purpose of the conference is to promote OLE development and create a support network for the community of educators and conservationists that provide these spaces for the public. The conference will be composed of three tracks to tackle every aspect of establishing, using, and maintaining an OLE:
A. Gaining Community Support
Learn how to gain support for and secure the longevity of your OLE. This track will include sessions on how to gain vital buy-in as well as tactics for seeking funding for your OLE.
B. Creating Educational Programs for OLEs
This track focuses on building curriculum and educational programs for your OLE. Some subjects included are connecting students to their outdoor surroundings, intentional and organic play in nature, and incorporating STEM and NGSS into your OLE.
C. OLE Design, Implementation, and Maintenance
This track emphasizes ways to design a natural and intentional OLE. Sessions will target architectural design of the space as well as planting design and establishing and maintaining native plant communities.
We are excited to welcome Robin C. Moore as our keynote presenter! Dr. Moore is an international authority on the design of children's play and learning environments, user needs research, and participatory public open space design. Moore is the author or co-author of numerous books and articles on the use of the outdoor environment by children, youth, and families, and their involvement in the planning and design process.
We hope you will join us at the conference!