National Storytelling Network: Earth Up Conference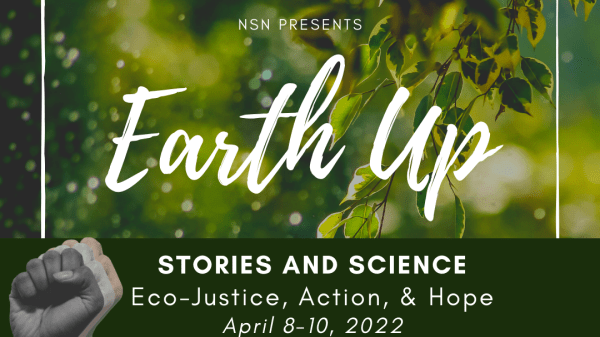 Earth Up
Stories and Science: Eco-justice, Action & Hope
Empower your mind. Empower your spirit. Empower your very soul.
April 8-10, 2022, NSN will bring together a virtual international group of artists, scientists, teachers, students, and activists to explore the use of story in addressing the climate crisis and issues of environmental justice. Often when facts do not succeed, stories can align the listener with a human experience and allow for new understandings.
Stories speak to the head through the heart, and our hearts are aching a lot these days as fires, floods, droughts, typhoons, a loss of biodiversity, heat islands, COVID and a questionable future plague our every waking minute. In addition to these miseries, the ongoing racial injustice that feels endemic to our nation, is crushing the health and spirit of many black, brown, and indigenous communities. These issues are not separate, and this year's Earth-Up conference will focus on creating and sharing stories about this essential intersection. We want to leave this conference with stories that we can use in our communities, legislature, and local governments to wake everyone up to this confluence and compel us all to commit to a clean, just future.
Earth Up 2022 will offer workshops, master classes, and panels developing our storytelling skills to convey our connection to the natural world and what's at stake for all as the climate changes. Story performances, Showcases, and on-demand Spotlights will share the best examples of environmental storytelling and eco-justice action. Performances will be interlaced throughout the weekend. Traditional and contemporary storytelling will highlight such topics as impacted communities, conservation, energy use, biodiversity, transportation, communal responsibility as well as basic nature information.