Experiential Learning in Alternative Education Workshop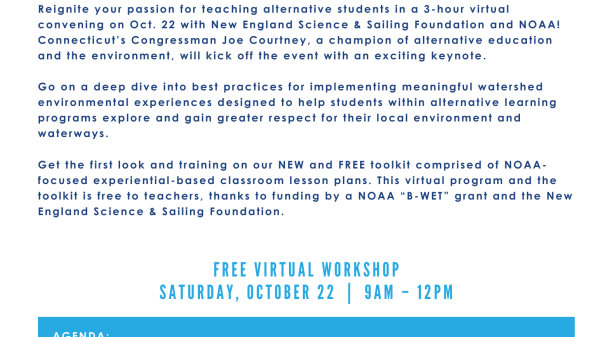 New England Science and Sailing Foundation (NESS) is hosting a free, virtual professional development opportunity for educators on Saturday, October 22 from 9 am – 12 pm!
The workshop, Experiential Learning in Alternative Education, will explore best practices for implementing meaningful watershed environmental experiences (MWEEs) with students within alternative learning programs. NESS will be releasing a toolkit comprised of NOAA-focused experiential-based classroom lesson plans culminated from the work of a research cohort of alternative teachers. This virtual program and resource toolkit is supported by a NOAA B-WET grant and is free for participants. Formal and non-formal educators are encouraged to attend, especially those who engage with students within an alternative setting.
Connecticut Congressman Joe Courtney, a champion of alternative education and the environment, will kick off the event with a keynote address. Panel speakers include professionals from the fields of experiential education, alternative education, and traditional education with representatives from Trumbull Public Schools and the North American Marine Environment Protection Association (NAMEPA), Sea Education Association, and Hartford Healthcare Natchaug Clinical Day Treatment Schools.
 
This workshop will take place on Whova with Zoom.
 
To register, please click here.
 
For more information, please view our events page.