Climate Education and Civic Engagement Opportunity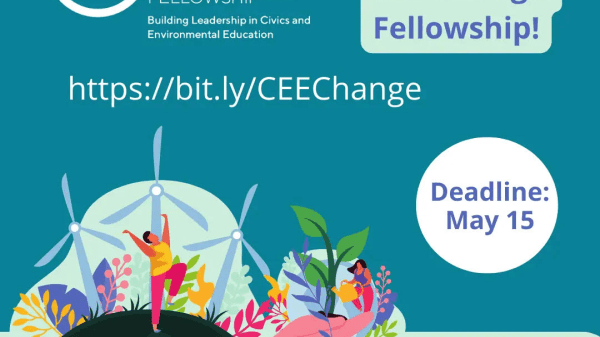 The CEE-Change Fellowship Program provides an opportunity for formal and nonformal environmental and civic engagement educators of all ages from across North America to learn from each other and collaborate to scale up our impact as we work to create a more equitable and sustainable future. The 2023 Fellowship program will include a special focus on climate change and education. This initiative is funded by Cedar Tree Foundation and ee360+, a cooperative agreement between NAAEE, U.S. EPA, and partner organizations.
Fellows must have at least five years of experience in civic education (CE), environmental education (EE), conservation, or community engagement
Fellows work with a partner (see partner guidelines in RFP) to design and implement a joint Community Action Project using an innovative CE and EE strategy to address a climate change issue at the local, state, or national level
Fellows attend an all expenses paid in-person Leadership Institute August 20–25, 2023 in Shepherdstown, West Virginia
Fellows receive scholarship funds to attend the 2023 Annual NAAEE Virtual Conference October 8–20
Fellows gain access to mentoring and networking opportunities within the Fellows cohort and NAAEE network
Applications are currently being accepted. Apply today!
Applications are due May 15, 2023.
Learn more at:  https://naaee.org/programs/cee-change-fellowship 
NAAEE will hold an informational webinar on Thursday, April 6, 3–4 PM ET. 
Register for the webinar >