Climate Action Accelerator Program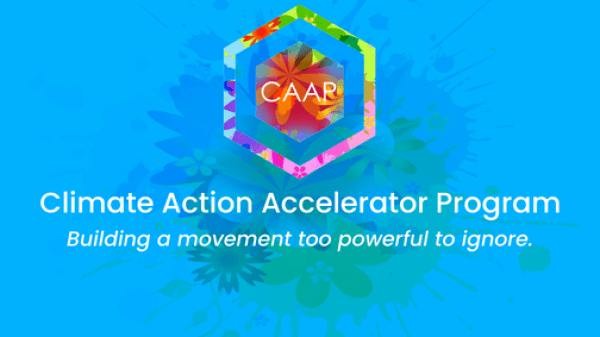 The Climate Action Accelerator is enrolling its 3rd cohort. Join schools across Canada in 20 hours of collaborative workshops per year over 3 years to build and implement a strategic whole-school climate action plan.
You can learn more by watching our 2 minute overview video or reviewing our introductory slide deck. Highlights from our first 18 months can be found here. You are welcome to book a 30 minute zoom meeting to discuss how your school might benefit.
We are building a community of practice across in this work of bold, hope-filled climate action in schools. Schools put together teams that must include at minimum a senior administrator, a faculty and a facilities leader, and 2 student leaders. Many schools have teams of 10 or more people. The collaborations within these interdisciplinary, intergenerational teams helps create the whole-school approach with all voices at the table. Schools also collaborate between schools, sharing resources, ideas, lessons learned, and encouragement for bolder action. 
Here are some comments from our year-end review: 
"For a few years now, I have been looking for the right framework to help us build an impactful whole-school robust sustainability plan.  We found and joined CAAP last year and because of their continued support, clear guidelines and helpful resources, we have been able to quickly mobilize our entire community and build a comprehensive climate action plan that we are all excited about."  Norm Gaudet, Head of School at TFS - Canada's International School
"I am full of hope because of CAAP and it makes me feel empowered to keep working towards our goals for a climate positive campus!"  Nicola St. George, Director of Sustainability and Regeneration, Appleby College
"I think my biggest highlight of the experience would be the youth specific meetings. I loved meeting kids from across Canada that shared similar interests and I remember my friends and I having a great time during those meetings." Grace, Grade 10 Student, Mulgrave School