The Whale Museum's virtual 2022 Gear Down Workshop for Marine Naturalists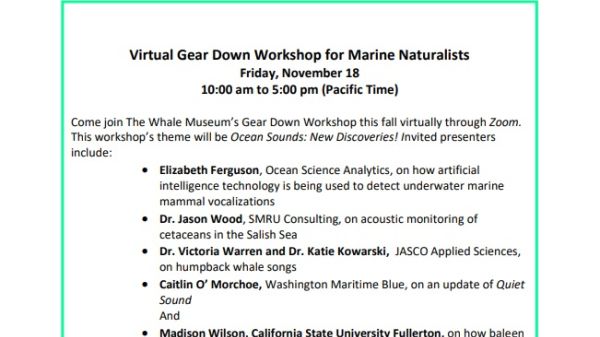 The Whale Museum (TWM) is holding an exciting virtual Gear Down Workshop for Marine Naturalists this fall on Friday, November 18. This workshop will be held from 10:00 am to 5:00 pm Pacific Time and registrants will join sessions through the videoconferencing platform, Zoom.
The theme of this "Gear Down" Workshop will be Ocean Sounds: New Discoveries!  
Invited presenters include:
Elizabeth Ferguson, Ocean Science Analytics, on how artificial intelligence (DeepSqueak) is being used to detect underwater marine mammal vocalizations
Dr. Jason Wood, SMRU Consulting, on acoustic monitoring of cetaceans in the Salish Sea
Dr. Victoria Warren and Dr. Katie Kowarski, JASCO Applied Sciences, on humpback whale songs
Caitlin O'Morchoe, Washington Maritime Blue, on an update of Quiet Sound
And
Madison Wilson, California State University Fullerton, on how baleen whales hear
The registration fee is $35 for non-members; $25 for TWM/SSAMN members. For more information and/or to register, please visit Virtual Gear Down Workshop page. Zoom link and workshop agenda will be sent to registrants via email provided at registration closer to the start of the workshop.