Rivers to Range: Exploring the Geology of the Pioneer Valley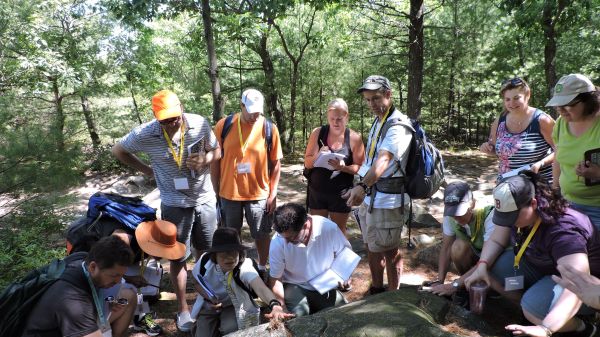 Pioneer Valley Region (MA) 2022 Summer Professional Development Institute for Grades 3-8 Educators
Does taking field trips, conducting experiments, learning directly from scientists and STEM professionals, and connecting with fellow educators from across the state sound like a fun way to spend a week this summer?
Join the Wade Institute for Science Education and our collaborating partners Beneski Museum of Natural History, Hitchcock Center for the Environment, Springfield Science Museum, and The Trustees of Reservations for a unique, graduate-level course. Engage in hands-on, minds-on, inquiry-based investigations and increase your STEM content knowledge! Connect with scientists, engineers, and STEM professionals, and work with educators at our collaborating partner institutions to explore real-world phenomena through standards-aligned, hands-on, minds-on investigations that you can bring back to your classroom. 
Known for its basalt flows, mountain ranges, dinosaur footprints, and fertile soils, the Pioneer Valley exhibits a rich history of geologic change. Explore opportunities for integrating science and math as you learn about the geologic history of the Pioneer Valley. Visit local field sites, delve into museum collections, investigate the traces that animals can leave in sediment, learn how rivers can shape a landscape in geological time, participate in inquiry-based investigations and discover how your modern landscape can provide clues to a very different past.
Throughout the course, instructors will weave pedagogy through the science content, highlighting ways to shift your lessons towards inquiry, incorporate the Science & Engineering Practices, and implement phenomena-based units. Earn Professional Development Points and optional graduate credit while you connect and collaborate with educators, scientists, engineers, and STEM professionals. You'll leave the course with investigations to bring your new science and engineering knowledge into your classroom!
Learn more and register at the Wade Institute for Science Education!