Education for a Sustainable Planet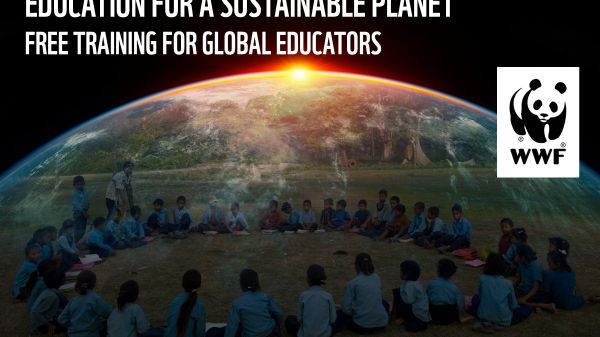 WWF has launched a new free CPD training for educators on the Microsoft Educators Center.
https://tinyurl.com/WWFESDcourse
Education for a Sustainable Planet is learning path comprising five courses each containing several modules and a 10 question test. A user completing a single course will be awarded a badge and 500 points on Microsoft Educator Centre. Upon completing all five courses, users will be awarded an additional learning path badge, and will be able to claim a WWF certificate of completion by submitting their 'Reflection Journal' built up over the course of the training.
One of the biggest changes that could be made to further the long-term aim of global sustainability is a holistic approach to sustainable education in schools around the world, leading to future generations of voters and consumers who instinctively understand and support the need for sustainable lifestyles.
This means that sustainability (ESD) should not be a separate subject in schools (compartmentalised, underfunded, inconsistent and ultimately deprioritised) but an aspect of all subjects. Schools and colleges can go even further than incorporating sustainability into curriculum teaching. Schools that embrace sustainability principles in their business model and not just their curriculum can bring the principles to life and normalise them for young people. For example, school food being sustainably sourced and/or grown in the school grounds, use of green technologies and materials etc. Schools are microcosms of society and where young people establish a lot of social norms and expectations.
WWF's Education for a Sustainable Planet learning path comprises the following courses:
Course 1: Education for a sustainable world
The meaning and importance of sustainability and biodiversity
The definition and history of Education for Sustainable Development
The role of education as a driver of change
Course 2: Making connections 
Systems thinking for teachers and students
Using Connections Circles to develop problem-solving skills and to build understanding
Course 3: Encouraging active and participatory learning
Project-based learning
Role-playing
Supporting & enabling student-led action for sustainability
Course 4: Driving change towards sustainable schools
The whole-school approach to embedding sustainability across school/college life
Understanding and maximising positive impact beyond the school gates
Course 5: Empowering young people to take action
Techniques for enabling and encouraging student projects and actions for the planet