Education and the Circular Economy Webinar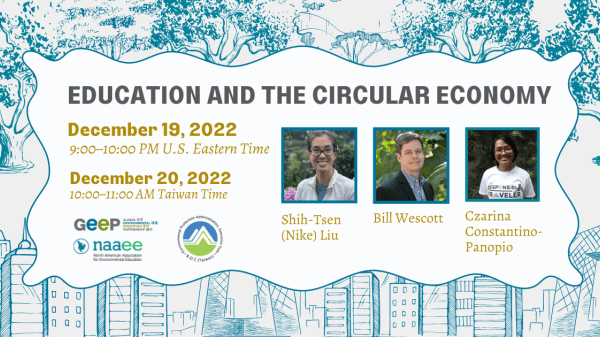 According to recent statistics from the World Bank, we create over 2 billion tonnes of waste globally every year. What would it look like to drastically reduce the amount of waste produced? The circular economy is one solution that aims to move us to a process that circulates and regenerates resources (source: Ellen MacArthur Foundation). 
On December 19, 2022, the GEEP hosted a webinar on education and the circular economy. Watch the full recording of Bill Wescott (BrainOxygen LLC) and Czarina Constantino-Panopio (WWF) as they present on circular economy, sustainable systems, and WWF's No Plastics in Nature Initiative. We hope you utilize and share this knowledge to create a more sustainable world!
Additional circular economy resources: 
Speakers: 
Bill Wescott has been a leader in innovation, sustainable development, climate change, and the circular economy for over three decades.  In addition to being a leader of three Bay Area startups, Bill was the Vice President of Innovation for Veolia Environment, where he co-founded and led the Veolia Innovation Accelerator and worked with all of Veolia's business divisions (water, waste, energy, and transportation) to enhance their services through technological and business innovations. Bill currently serves as a Senior Fellow at the U.S. Council on Competitiveness, a member of the University of Washington (Bothell) advisory board, a member of Princeton's Advisory Council on Innovation and Entrepreneurship, and an advisor to a variety of client organizations through his firm BrainOxygen LLC. Bill has extensive international experience, having worked on five continents in four languages (English, Spanish, Portuguese, Italian), and lived in Italy, Brazil, Mexico, and India. Bill has a Ph.D. in Engineering and Public Policy from Carnegie Mellon and BSE in Chemical Engineering from Princeton. He is an active mentor to entrepreneurs and is the author of a children's picture book series on climate change.
Czarina Constantino-Panopio is the national lead for the No Plastics in Nature Initiative and project manager for the Plastic Smart Cities project with WWF–Philippines. The No Plastics in Nature Initiative is supported by WWF–Philippines and several WWF Offices around the world, aiming to stop plastic waste leakage by 80–100% in 2030. As the National Lead Coordinator, Czarina engages policymakers, cities, businesses, and the general public in the Philippines in a systemic and collaborative approach to address plastic pollution. An EE 30 Under 30 awardee, Czarina was previously an organizational capacity development (OCD) coordinator with Philippine S&T Development Foundation, Inc. (PhilDev). PhilDev's Innovation for Social Impact Partnership (ISIP) Project is a project implemented by both PhilDev and the United Nations Development Programme (UNDP) with support from the Department of Foreign Affairs and Trade – Australia (DFAT – Australia) which aims to empower social enterprises (SEs) to grow and become globally competitive and contribute to the acceleration, achievement, and sustainability of the UN Sustainable Development Goals (SDGs).
Moderator: 
Shih-Tsen (Nike) Liu is an associate professor for the Master Program of Environmental Education and Resources at the University of Taipei, Taiwan. She also served as the president of the Chinese Society for Environmental Education. Her research interests in recent years include the management of nature centers; intergenerational education; and innovation diffusion of environmental policy.