Dive Into Learning With Ocean School!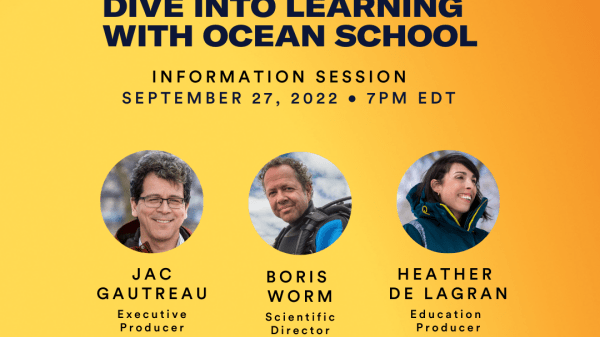 The event will be held online via Zoom, a free meeting platform.
The event will be hosted by Jac Gautreau, Executive Producer of Ocean School; Boris Worm, Scientific Director of Ocean School; and Heather De Lagran, Education Producer of Ocean School.
Discover our newly redesigned website and resource library, featuring over 100 interactive media and 27 new collections! We'll update you on upcoming projects, and present new content and curriculum opportunities for grades 5–12.
You'll also meet award-winning teacher-ambassador Melissa Dent, a grade 7 teacher from Ontario, who will be joining us to share her experiences with Ocean School.
We've also invited members of the Ocean School team, and valuable partners to share what's coming soon as we celebrate the UN Decade of the Ocean.
Speakers and guests will include:
Melissa Dent - Grade 7 Teacher from the Lambton Kent District School Board
Diz Glithero - National Lead, Canadian Ocean Literacy Coalition Programme Specialist
Francesca Santoro - Ocean Literacy, IOC-UNESCO
Liisa Peramaki - Director, Ocean Decade Office, Fisheries and Oceans Canada
Celebrate the Decade of the Ocean in your classroom with Ocean School.
Don't miss out! Dive into learning with Ocean School! ⚓️
Where? Online, on Zoom ⛵️
When? Tuesday, September 27, from 7 to 8 pm Eastern.
Format: Online
Audience: Teachers, Kids & Families, Adults