Connecting Children to Nature through Indigenous Teachings Virtual Workshop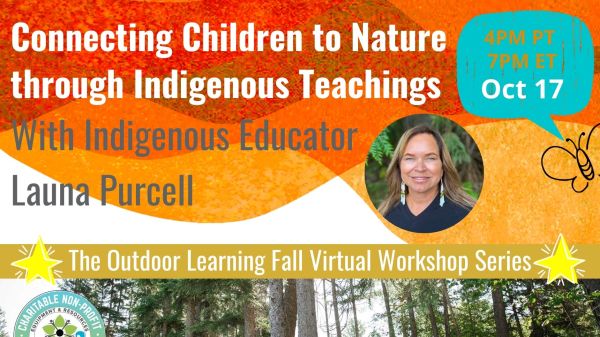 October, 17th 2023–
4:00 PM Pacific / 7:00 PM Eastern
Join Author Launa as she shares about Heartbeat of the Earth—a Handbook on Connecting Children to Nature through Indigenous Teachings.
Launa Purcell is a member of the Xa'xtsa First Nation and a mother of two. Launa works as an Indigenous Educator and teaches Indigenous outdoor camps.
The activities inside instill traditional teachings of respect, honor, resourcefulness, and humility in children. This handbook is intended to inspire parents, caregivers, and educators to provide children with meaningful outdoor experiences interwoven with traditional Indigenous knowledge.
This handbook isn't a replacement for ensuring that local Indigenous knowledge and perspectives are central to your teaching. Rather, this is a starting point, and an encouragement to learn more, and use these activities as an inspiration to adapt them and adopt new ones in a culturally appropriate and responsive way.
All registrants will be entered to win some great draw prizes! After registration you will receive a discount code to access the resources shared. Following the workshop you will receive the recording, and a link to access your Certificate of Attendance.
You can access Launa's beautiful resource on our website.