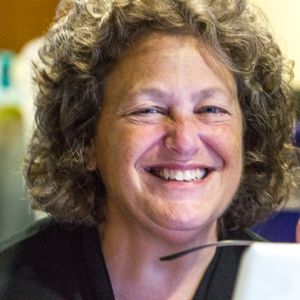 Lori Mann
Director of Conferences and Programs
NAAEE
Burlingame, California,
Lori Mann has more than 40 years of experience in environmental education at the local, state, and national levels. Lori joined the NAAEE staff in 2012 as Program and Conference Manager and now serves as Director of Conferences and Programs. In this capacity, she manages all aspects of the NAAEE annual conference and coordinates several national projects related to building capacity to deliver high-quality environmental education.
Read More

From 1997 to 2012, Lori worked as a consultant for such varied clients as the National Audubon Society, EETAP, Stanford University, the Environmental Volunteers, and the Marine Mammal Center. Her work was also varied: she wrote text for an iPhone and touch screen app; prepared case studies for a nationally disseminated conservation education toolkit; wrote a web-based teaching outline for a short course on integrated project-based learning; conducted docent training workshops, and developed a complement of K–12 onsite programs for a new nonformal education facility.

Lori has taught environmental education courses at Sonoma State University and was part of the lead team for California's Education and the Environment Initiative, serving as an instructional editor and writer for standards-based curriculum units, editing for content, pedagogy, and writing style. For six years, she managed and taught courses for an Environmental Education Certificate program for teachers, a joint program of the Environmental Volunteers (Palo Alto) and UC Santa Cruz Extension. She has worked extensively with curriculum development and review, including aligning more than 600 activities to California and national academic standards. As Education Director at Coyote Point Museum for Environmental Education, Lori spent 15 years coordinating, delivering, and evaluating programs for schools, teachers, and the public.

Lori is a past president of the North American Association for Environmental Education and served on its Board of Directors for nine years. She served several times as conference chair and conference program chair, and in many other volunteer roles within NAAEE. She served on the inaugural Steering Committee for Bay Area CREEC and on the Environmental Education Advisory Committee for the California State Department of Education. Lori holds an M.S. in Environmental Instruction from the University of Michigan and a B.A. in Environmental Studies from UC Santa Barbara.