What Makes Me Come Alive? Water, Faith, and the Colorado River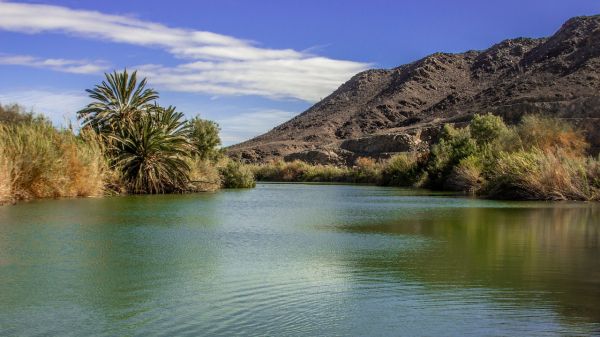 "Don't ask what the world needs. Ask what makes you come alive, and go do it. Because what the world needs is people who have come alive."—Howard Thurman
What makes me come alive? Well, I'm a desert dweller, and water makes us all come alive. Geeky science stuff, systems thinking, solutions to climate change, and embodied educational experiences that help people connect their deepest selves with the world outside them, all of this energizes me. But not preaching sermons in churches. So when my pastor asked if I would ever want to preach about water, I was quick to say, "No."
It is in the darkest times that we draw on our faith traditions and spirituality.
But 2022 was rough on the water community here in the Southwest. At meeting after meeting, we looked at the dashboard for the Colorado River system and Drought Contingency Plans with multiple tiers and possible outcomes, each of us imagining the effect of those millions of acre-feet of cuts on our communities. Our friends and neighbors asked, "Should we sell our homes before the water runs out?" I also wondered if it was unfair to be nurturing strong, deep roots in this desert community for my children when I wasn't sure they could stay to raise their children here. It is in the darkest times that we draw on our faith traditions and spirituality.
Sometime in late fall, I took a deep breath and said, "I have an idea… It's a little unconventional, but I think it would be something that people would learn from, and enjoy."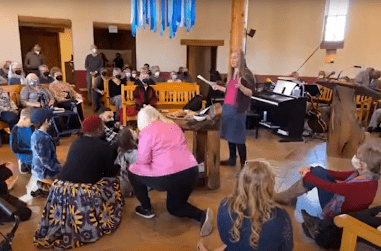 The Christian tradition overflows with water imagery, from the creation stories separating land from water to the nation of Israel escaping through the parted Red Sea. In addition, there are the stories of Jesus baptizing, walking on water, and calming stormy seas. But as an environmental educator, I had never really connected those stories to my work with learners around our urban and natural hydrologic cycles. I had largely kept the spiritual and physical separate—not daring to consider the water of baptism as a part of the global water cycle that has persisted since the formation of the first water molecules. I felt this way up until I heard all of the troubled stories and concerns of my friends, neighbors, and myself. Suddenly, I wanted to share the stories of our amazing watershed and the water cycle with my faith community.
And so my version of Baptism of the Lord Sunday was birthed into existence. Merging my traditions as a Christian and a Project WET coordinator, I constructed an experiential worship experience. We imagined the water molecules from the Jordan River at the time of Jesus' baptism traveling through the water cycle. Worshipper-learners played the classic Project WET game "The Incredible Journey," pausing on their journey for short lessons, one for each of the nine places in the earth system where water can travel.
I shared how the prolonged drought in the Colorado River basin and the positive feedback cycles of decreasing snowpack and increasing temperature makes me feel desperate and hopeless. Using my colleague Betsy's Colorado River Story blanket stretched across the communion table, I leaned into my data scientist self to show the changes of the river over time. We fed our spirits as we traveled through the water cycle with water-themed music from the gospel tradition. Counter to my previous feelings of hopelessness, I shared my belief that when we take small climate actions, we join ourselves to the greater good, connecting to spirit, Mother Earth, God, the universe, and everyone else. We can turn things around.
It's been four months since the service, and I'm still hearing the ripples from folks at coffee hour...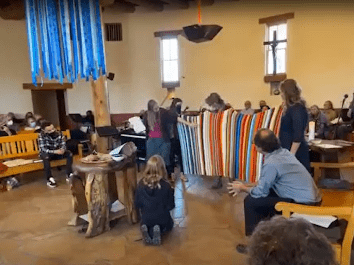 I took a big step outside my comfort zone crafting this worship service. While I have no problem teaching any sized group about a scientific or environmental topic, sharing my heart—my feelings of hopelessness, and my thoughts on our responsibility as people of faith to care for the planet, how I see God and spirit move in nature—was exponentially harder. But the payoff was bigger. It's been four months since the service, and I'm still hearing the ripples from folks at coffee hour—how they were moved, how they got curious or inspired, or at least a little more hopeful about our planet's future.
I'm so glad I took the risk—it made me come alive.
About the Writer
Holly Thomas-Hilburn has worked with Arizona Project WET since 2009 and is privileged to live, teach and worship on the land of the Tohono O'Odham people. She is a member of Southside Presbyterian Church, a congregation founded by Tohono O'odham people in the early 1900s.
---
Join eePRO today and be a part of the conversation!
Comment and connect with fellow professionals in environmental education. Join eePRO >