Tips for Addressing Climate Anxiety in Youth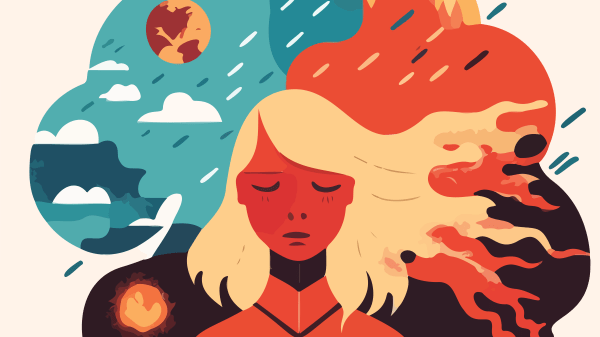 Illustration credit: Malchevska / Shutterstock
By now, many of us have experienced the impacts of climate change like wildfires, floods, drought, heat waves, storms, and more. These experiences make it vital to talk to young people about climate change, but can also make it more challenging, as the topic is linked to traumatic experiences and anxiety.
Here are a few tips to talk about climate change with young people in a trauma-informed way, whether you are an educator, parent, or anyone else.
Do talk about it!
Discussing climate change is hard. We want to protect children from scary topics, and we may feel ill-equipped to have difficult conversations. But climate (mis)information is everywhere, leaving children with the impression that it is too late for action or that their future will be bleak. 
Youth need trusted adults to share information in an age-appropriate way, and talking about trauma is an important way to address it. You can start by allowing young people to share what they know, ask questions, and express their feelings.
​Make room for difficult feelings and emphasize coping strategies.
School can sometimes feel like a place where big feelings are not welcome, especially for older children. Prior to bringing up potentially-traumatic topics, it is important to build a classroom or home culture where feelings are discussed, acknowledged, and validated. Preview that discussions of these topics may bring up strong emotions, and invite children to share their feelings with the class, a partner, you, or another trusted adult. Share ways to cope with these feelings, like taking action, making a plan for future disasters, limiting news consumption, and maintaining a sense of wonder and connection to the environment by making art, writing, and spending time in nature.
Emphasize solutions and action.
Having agency and power to make change is a vital antidote to trauma, including climate anxiety. Push climate conversations beyond the science and emphasize the action being taken to protect our futures. Ensure that young people know about local climate action plans and youth climate action by sharing stories of youth and adults working to fight climate change (SEI's Green Careers Webinar Library has plenty of these). Find out what is happening in your city, and connect young people to ongoing climate action. 
SEI's curriculum resources are designed to focus on solutions, like sustainable design and green technology. Many of SEI's curriculum resources, such as our air quality module, also provide opportunities for students to engage in climate action projects or create plans to reduce their school's resource use. Our People and Planet Challenge provides students with an opportunity to build an advocacy campaign this fall!
Look for signs of distress, and know your limits.
Pay attention to how students react to these discussions, looking out for noticeable anxiety, disruptive behavior, apathy, physical discomfort, fear, or withdrawing from interaction with others. Parents can also look for symptoms like trouble sleeping or obsessive thinking. When these problems arise, ask for help by referring a student to a school psychologist or counselor, connecting with a student's family, or talking with your child's doctor.
Suggestions for further reading:
This eePRO blog series, Ripple Effect, highlights stories of collaboration and impact among partners in the ee360+ Leadership and Training Collaborative. ee360+ is an ambitious multi-year initiative that connects, trains, and promotes innovative leaders dedicated to using the power of education to create a more just and sustainable future for everyone, everywhere. Led by NAAEE, ee360+ is made possible through funding and support from U.S. EPA and twenty-seven partner organizations representing universities and nonprofits across the country, as well as five federal agencies. Through this partnership, ee360+ brings together more than five decades of expertise to grow, strengthen, and diversify the environmental education field.