Puget Sound Estuaries: Inspiring the Next Generation of Stewards of Puget Sound Through Exploration and Education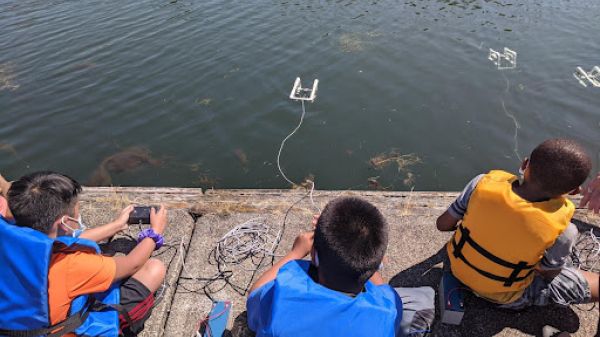 The NOAA Office of Education and NAAEE partnered to increase environmental and science literacy among NOAA's partners and external networks. In this five-year partnership supported by the U.S. Department of Education, NOAA and NAAEE worked together to provide enriching after-school watershed-related STEM (science, technology, engineering, and mathematics) projects through NOAA-21st Century Community Learning Centers Watershed STEM Education Partnership grants. These grants supported programming for a total of 100 local 21st Century Community Learning Centers (21st CCLC) sites and their students. The 30 selected projects served 18 states, ranging from Alaska to Florida.
This post is written by Paris McClusky, Executive Director for Puget Sound Estuarium.
Puget Sound Estuarium partners with Thurston TOGETHER! Clubhouse to provide an after-school STEM Program, spring break camp (Spring Tides Camp), and summer camps (Estuary Explorers Summer Camp) to four 21st CCLC site schools from Thurston County, Washington State: Lydia Hawk and Pleasant Glade Elementary Schools and Nisqually and Chinook Middle Schools. Our goals for these partner programs are consistent with our mission to foster learning opportunities that inspire people of all ages to connect with, protect, and enjoy the unique estuary environment of Puget Sound. Our 21st CCLC partner organization Thurston TOGETHER! has been invaluable to our efforts to reach underserved students from these four schools. TOGETHER! Clubhouse staff have undergone 2 Meaningful Watershed Education Experiences (MWEE) trainings about curriculum and implementation for our summer camps and after-school program. They are enthusiastic partners in our cooperative effort to bring high-quality, place-based STEM watershed educational experiences to the students we serve.
The first year of program implementation was challenging. Many of the students that we serve are underserved in the South Sound: less than 50% of students from these four 21st CCLC site schools met state STEM performance standards; over 55% are from low-income families; and nearly 15% are English language learners. The COVID-19 pandemic impacted every school district in Washington State, but some students were already at a disadvantage before the pandemic hit. Starting in June 2020, TOGETHER! Clubhouse and Estuarium staff banded together to ensure that these students received NGSS and NOAA Ocean Literacy aligned STEM watershed education throughout the COVID-19 pandemic.
The first program we implemented was our Estuary Explorers Summer Camp in the summer of 2020. We provided interactive virtual classrooms over Zoom for three days a week and capped the week off with a field trip to Capitol Land Trust's (CLT) Inspiring Kids Preserve (IKP), a CLT owned property on Henderson Inlet in the South Sound, dedicated to educating kids about estuarine habitats and restoration. To adhere to state and local COVID-19 safety guidelines, Clubhouse and Estuarium staff worked hard to keep campers socially distanced and masked at IKP. Some of these trips included up to 18 campers, which required us to divide them into two groups and stagger the timing of their visits so the groups didn't overlap.
During the 2020–2021 school year, we were unable to be in person with students except for occasional visits by our Education Coordinator to the 21st CCLC site schools where she conducted STEM after-school program activities for the kids with the help of TOGETHER! Clubhouse staff. Most of the STEM after-school program and our Spring Tide Camp were conducted virtually over Zoom with one in-person field trip during Spring Tide Camp. We provided take home estuary education and experimentation kits exploring subjects like marine biodiversity and human impacts, including the impacts of anthropogenic climate change on the South Sound.
This summer, we are finally able to provide our summer camps in person! Three days a week, campers are bused from their 21st CCLC site schools to the Estuarium facility for camp. The other 2 days, campers are bused to field trip locations at Tolmie State Park on Nisqually Reach and IKP for hands-on STEM watershed education in the field! With recent upticks in COVID-19 cases in our state, we don't yet know what this fall will bring in terms of virtual, hybrid, or in-person instruction for our 21st CCLC site schools. What we do know is that Puget Sound Estuarium will be there for these students in 2021–2022, in whatever capacity possible, to continue to offer STEM educational experiences about the estuarine environment of the South Sound.