#NAAEE2020 Gems: Recommendations for Outdoor Learning in Winter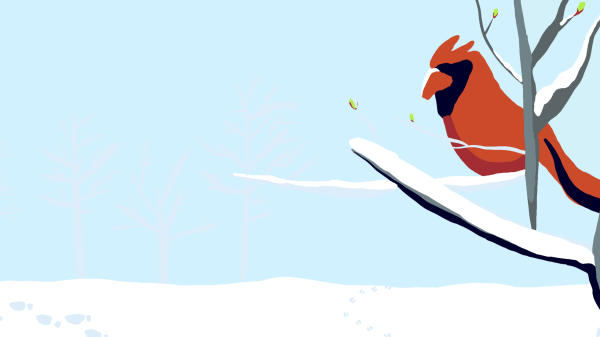 As the temperature begins to drop, many environmental educators struggle to find ways to engage with students outdoors. But as Natalie Crowley noted in her 2019 eePRO article, "5 Reasons You Should Be Teaching Outside This Winter," there are tremendous benefits to taking your lesson outdoors. During the 46th annual NAAEE conference, attendee Sarah C. initiated a digital community board on Whova for recommended outdoor activities for students in winter. Here are a few of the great ideas shared!
1. Snow Vocabulary (Recommended by Jimena C.)
Begin a winter curriculum with a discussion on words for snow! The Denali Foundation and the Alaska Rural Systemic Initiative have a fantastic curriculum that "challenges young minds to make connections between academics and traditional native knowledge." In the section "Exploring Native Snow Terms," Alaskan Athabascan terms for snow are followed by explanations and discussion questions such as, "Why do you think Minto Elders distinguish two types of ice? What does this suggest about traditional ways of classifying things?" 
In the Snow, written and illustrated by Huy Voun Lee, offers another discussion on language. In this children's book, protagonist Xiao Ming learns Chinese characters as his mother draws them in the snow.
2. Animal Tracks (Recommended by Kathy B)
While not everyone may have the opportunity to take students out for an animal tracks mystery trek in the snow, Cleveland naturalist Marty Calabrese provides an engaging virtual hike option. For those who work with older students, tracking can be incorporated into math lessons by discovering the potential speed of animals based on their tracks!
3. Snowflake Observations (Recommended by Kathy B)
A classic introduction to snowflake observations is Snowflake Bentley, an award-winning children's book with beautiful woodcut illustrations that not only tell the story of how Wilson Bentley became the first photographer of snowflakes, but also showcase the perseverance and wonder he carried.
If you have the resources to do so, observing snowflakes under a microscope is a fantastic winter activity. Further, the activity can connect to discussions on climate change, as discussed in Snowmelt, a 2018 community science project. Alternatively, a macro lens attachment to a smartphone can be an affordable addition to a classroom toolkit.
4. Creative Writing (Recommended by Amy B.)
As Amy writes, "The needs of living things is a natural connection during the winter as the children can feel their own needs change and can empathize with the animals in their region. How do animals stay warm, what do they eat, etc. Such a meaningful connection and great fodder for storytelling and creative writing."
If you have success with a particular prompt, please share in the comments section below!
5. Birding (Recommended by Amy B.)
Encourage students to set up winter-friendly bird feeders in their backyard/porch/balcony, and then mark your Beauty of Biodiversity 2021 Wall Calendar, or any calendar, with the dates February 12-15, 2021 for the Great Backyard Bird Count, where bird-watchers of all ages contribute to a bird map! Last year over 42 million birds and 7000 species were recorded. For very young students, try a migratory bird obstacle course!
6. Tree Identification (Recommended by Janice L.)
For older students, learning to identify trees by their buds and bark can be a truly life-changing experience. To see what most do not see, to experience such intimacy, is an irreplaceable rush of joy. Consult your local parks district or arboretum for a winter tree identification guide, such as this one created by the Illinois Champaign County Forest Preserves. 
Interested in more resources like these? We will continue to share select gems on eePRO, but the majority of content is safely stored in our conference platform app, Whova. Anyone who has registered for the #NAAEE2020 conference has access to these recordings and community boards until September 2021. If you haven't registered, you can do so at conference.naaee.org/register.