Island Champions of Coastal Resilience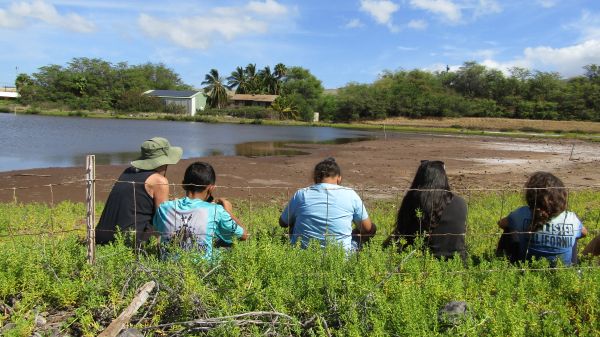 This post was written by Diana Papini Warren, Executive Director of Learning Endeavors.
Learning Endeavors, a non-profit organization in Hawaiʻi, is partnering with the 21st Century Program on the Island of Molokaʻi to engage youth in a unique approach to climate science education through a STEM Watershed Education program called Champions of Coastal Resilience.  
The NOAA Office of Education and NAAEE is partnering to increase environmental and science literacy among NOAA's partners and external networks. This five-year partnership is supported by the U.S. Department of Education, NOAA and NAAEE are working together to provide enriching after-school watershed-related STEM (science, technology, engineering, and mathematics) projects through NOAA-21st Century Community Learning Centers Watershed STEM Education Partnership grants. These grants will support programming for a total of 100 local 21st Century Community Learning Centers (21st CCLC) sites and their students. The 30 selected projects are serving 18 states, ranging from Alaska to Florida. 
Due to the pandemic, during the 2020–2021 school year, we shifted our programs to 100% virtual with encouraged, family-led field studies. For three academic quarters, we facilitated virtual Champions of Coastal Resilience (CCR) after-school programs lasting six weeks each. Through a combination of live video conference sessions with trained 21st Century Instructors, an online interactive curriculum, and independent work, students from grades 4–6 learned with our CCR Approach: coastal ecology + climate science + taking action. In addition to encouraging students to visit their coastlines with their families as a part of the meaningful watershed education experiences, we also produced four Virtual Field Study videos that introduced Molokai wetlands, traditional cultural fish ponds, coastal dunes, and rocky cliff habitats. Students learned to use digital maps to identify their watershed, and they used a sea-level rise viewer from NOAA to model impacts on their coast. All students progressed through online modules of content and, as a culminating task, developed their own two minute video story about their own coastline, called a "CCR Story". Each student shared their own CCR Story at a culminating virtual film festival which family and community members attended to celebrate the achievements of these Champions of Coastal Resilience.
In December of 2021, the pandemic subsided just enough to allow us to gather all three cohorts of after-school students and their families at one CCR Film Festival in person. Several partners from our program attended, including the 21st Century Program Director (our primary partner), our wetlands expert and ornithologist, the Molokai Land Trust, the Nature Conservancy, the videographer who assisted with producing our virtual field trip videos, and a local legislator! Students received certificates and were celebrated by all present as the future leaders of the Island of Molokai.
We were pleased to plan and provide a 2022 Spring Break Coastal Camp, March 14–15, as a part of this same program. Eighteen students participated in the two-day camp. Each day had a field-based component and some classroom time for science and art activities. On day one, the 21st Century Instructor Joyce Haase and co-leaders guided the group to the Koheo Wetlands to investigate the wetlands. Arleone Dibbin-Young, the wetlands manager there and ornithologist, helped students to identify native and endangered wetland birds, as well as migratory species.  Campers collected data using our CCR Field Data Sheets, capturing information on coastal change, erosion, and potential vulnerability to sea-level rise. A signature activity for CCR is for students to find the high tide line and hold up our one-meter CCR cloth for a visual reference on potential sea-level rise by 2100. Students made observations, wondered, and discussed possible impacts and solutions for mitigation—coastal resilience analysis came to life!  
On the second day, students visited coastal dunes and sandy beach ecosystems and collected coastal data there, and conducted a beach clean-up, cataloging marine debris in a citizen science app. During classroom learning time, students conducted a wetland filtration lab and investigated microorganisms under a digital microscope. Each student got to paint their own wetland bird puppet, carefully referencing field guides for accurate coloring.
On maps, digital, and on the wall, students identified the interconnections between the upper watershed regions, in Hawaiʻi called "Mauka" and the coastal regions, called "Makai". The island of Molokai suffers greatly from erosion due to invasive ungulate species destroying native vegetation Mauka. With the rainfall, vast amounts of silt runs off into the sea suffocating the coral reefs and drastically changing the coastal ecosystems.  
Champions of Coastal Resilience continues to grow in Hawaiʻi, through this program and through NOAA BWET funding for a series of teacher trainings that are offered statewide. Using a similar approach of place-based learning, meaningful field study, and innovative use of technology, youth across the Hawaiian Islands are becoming empowered champions. 
Additional information:
CCR Virtual Field Study videos page