Facilitating Teen and Adult Community Environmental Action Projects via Near-Peer Mentors and Resources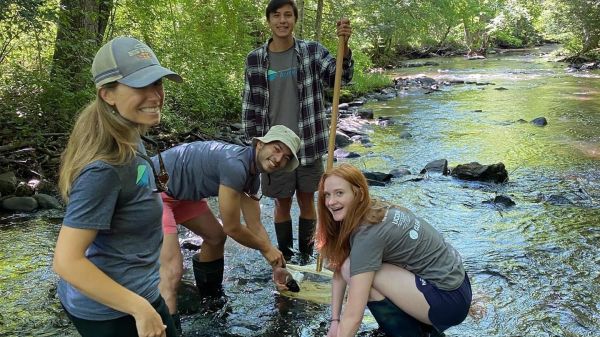 Welcome to our blog series, CEE-Change, Together. Each month, NAAEE will post narratives from the CEE-Change Fellows as they implement their community action projects and work to strengthen environmental education and civic engagement capabilities, all supporting the mission of cleaner air, land, and water. Join us on their journey! The Civics and Environmental Education (CEE) Change Fellowship is NAAEE's newest initiative to support leadership and innovation in civics and environmental education in North America. This ee360 program is a partnership between NAAEE, US EPA, and the Cedar Tree Foundation.
As a young environmental student, long before I was a CEE-Change Fellow, I enjoyed and valued the mentors who supported my growth. But as I developed my own career path, I realized that I did not see a reflection of myself, a Latina, in any of my mentors. I thought about the tremendous impact it could have on a young person's passion, to see someone who looks like them or represents them pursue and succeed in mutual dreams.   
Now an assistant extension professor at the University of Connecticut (UConn), I have set out to fill this void. The premise of Difference Makers Mentors (DMM), my Community Action Project (CAP) as part of my CEE-Change Fellowship, is to create environmental education programming that is equitable, culturally sustaining, and welcoming to students. This pertains especially to those who have been historically marginalized within the science and environmental field, which may include students of color, Black, Indigenous, and Latinx populations. As much as possible, this project aims to match college and high school students with shared identities and provide role models for younger students that allow them to envision themselves in college pursuing a similar degree or career path.
"This program brings home that we can carry out local action projects in our hometown.

It allows students to be supported as they carry out a project that's so important to them." 
To carry out this project, the DMM team has integrated culturally sustaining educational approaches into the Natural Resources Conservation Academy. The focus of this CAP is to develop undergraduate UConn students as near-peer mentors to Connecticut high school students. First, the college students, serving as Difference Maker Mentors, help create a summer field experience that includes culturally sustaining pedagogical approaches. After the summer field experience, the Difference Maker Mentors then serve as near-peer mentors to high school students. Their role is to support the mentees' execution of environmental action projects they have tailored to the teens' interests, identities, and local community needs.
The Difference Maker Mentor program integrated into the Natural Resources Conservation Academy with ease, but this program did not take a copy and paste approach. Upon launching this program, it was clear that training beyond pedagogical instruction was necessary. The new challenge became how to best support the Difference Maker Mentors themselves. From hectic schedules to navigating virtual relationship building, my team and I fine-tuned approaches to conducting weekly check-ins with the Difference Maker Mentors, resources the mentors might need, and necessary foundational training for culturally sustaining educational approaches and trauma-informed mentorship approaches. The program provides mentoring for the mentors as they're mentoring their high school students. The extensive resources and guidance that come from this process continue to be critical to the success of the program.
"The Difference Maker Mentors have been co-creating the space with us and providing ideas of what they need. This is not a top-down approach but one where everyone is discussing how to make this program impactful for everyone involved. As the lead on this project, I have had moments of questioning myself. "Have I provided proper training to the DMMs?" We are putting them in leadership positions, and I'll be there along the way behind the scenes to support them, but as I continue to work with the near-peer mentors there are always new things that I realize that I need to prepare them for. I'm trying to get comfortable with these learning moments, and pivot to provide them with additional training as we move through the program."
During the pilot year, the Difference Maker Mentors participated in an introductory training but moving forward, there will be even greater emphasis on the training stage. Students enrolled in my spring course will receive more in-depth training before becoming mentors. Another goal is to increase awareness of the Difference Maker project so that participating high school students will think, "When I am at UConn, I would love to continue my environmental leadership as a Difference Maker Mentor." The long-term goal is to provide this continued pathway programming for the students in high school and far beyond. 
Throughout the 2021 pilot, my team and I have secured funding for a full five years of Difference Makers. This means that over one hundred high school students will have the opportunity to work with inspirational mentors and see themselves in these role models who truly are making a difference. I remember at the end of the fall semester Sustainability Fair, one high school student turned to their Difference Maker Mentor and said, 'I'm really going to miss this. I had so much fun!' That mentor felt so proud to be a part of that experience. And that has made me equally as proud.  
"For anyone that is considering developing a near-peer mentoring program: do it! It's so exciting to co-create programming with young environmental professionals and young environmental students and elevate their voices. I've been so surprised by the innovative ideas that they've brought to the table and integrated into our program. It's been a lot of work figuring out how to provide this multi-layered mentorship approach, but it's completely worth it. I'm excited to continue with this type of programming."
NRCA's Difference Maker Mentors (DMM) program is currently supported by a generous 5-year donation from the original private family foundation and from a grant (WAMS-2021-38503-34817) from the USDA Women & Minorities in STEM Fields. Additional support was provided to Dr. Cisneros through the NAAEE CEE-Change Fellowship. a partnership between ee360 and Cedar Tree Foundation to support leadership and innovation in civics and environmental education across North America.