Center for Alaskan Coastal Studies: Kenai Watersheds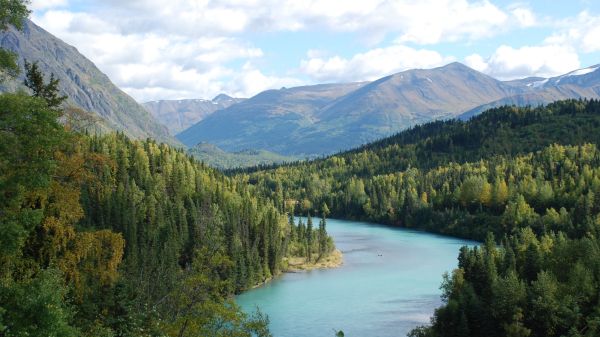 The NOAA Office of Education and NAAEE partnered to increase environmental and science literacy among NOAA's partners and external networks. In this five-year partnership supported by the U.S. Department of Education, NOAA and NAAEE worked together to provide enriching after-school watershed-related STEM (science, technology, engineering, and mathematics) projects through NOAA-21st Century Community Learning Centers Watershed STEM Education Partnership grants. These grants supported programming for a total of 100 local 21st Century Community Learning Centers (21st CCLC) sites and their students. The 30 selected projects served 18 states, ranging from Alaska to Florida.
This post is written by Katie Gavenus, Program Director for the Center for Alaskan Coastal Studies.
I remember the building enthusiasm during spring 2020, as the Center for Alaskan Coastal Studies, Kenai Watershed Forum, and Boys & Girls Clubs of the Kenai Peninsula prepared to begin a new partnership for meaningful watershed education. Connecting the central and southern Kenai Peninsula, from headwaters to the ocean, this exciting watershed learning endeavor includes two environmental education and stewardship non-profits, alongside the Nita M. Lowey 21st Century Community Learning Centers of the Boys & Girls Clubs of the Kenai Peninsula. One of the unique aspects of this new program is the diversity in habitats, different human communities, and overall geographic expanse it touches, with a focus on providing meaningful outdoor learning throughout the watersheds of the Kenai Peninsula. The place-based curriculum is especially exciting because it strives to bring together different pieces of knowledge, experiences, and perspectives of the watershed by including guest presenters and educators from local communities, tribes, conversation organizations, harvest groups, and scientific research.
Of course, the COVID-19 pandemic forced us to re-think how we provide meaningful watershed education experiences. When in-person school closed this spring, and their in-person summer programs had to be canceled, our partners at the Boys & Girls Clubs of the Kenai Peninsula rapidly pivoted their work to ensure that all participants in their clubs had access to necessities and enrichment activities for learning. Due to concerns about disparities in technology and internet access, as well as worries that students are experiencing "Zoom fatigue," the Boys & Girls Clubs of the Kenai Peninsula decided that virtual learning was not a good fit for them. Instead, they have created weekly take-home learning packets that are distributed alongside nutritious snacks for families. These packets were available in June and July 2020, and again starting in September as schools came back into session with a mix of in-person and distance learning. At the current moment, the Boys & Girls Clubs are sending out approximately 185 packets per week to participants in the 21st CCLC program. Participants range from kindergarten to high school, so the Boys & Girls Clubs staff have been individually curating each packet to best match the interests, needs, and developmental stage of each participant or family of participants!
Given this change, the Center for Alaskan Coastal Studies and Kenai Watershed Forum shifted our priorities for the grant's first year. As we develop activities, we keep two core questions in mind:
How can we best support the Boys and Girls Club staff without adding a significant additional burden? Their efforts to plan for and prepare weekly take-home learning kits are herculean, so our primary goal is to make it as straightforward as possible for them to incorporate watershed education components.
How can we best encourage participants to engage in multi-disciplinary, place-based, experiential learning about their watershed? This, as you can imagine, takes some real creativity when our only contact with the students comes through the take-home learning kits! Add the extra challenge of dark days and cold winter weather, and it almost seems insurmountable. To meet this challenge, educators have created activity instructions and materials that include outdoor exploration and nature observation, art-based activities, hands-on experiments, data collection, interviews with family members or friends, and innovative ways to use technology to connect. From solo spots to pH tests, map-making to documenting water usage, we've created a suite of thematic activities and materials that students can use to develop their understandings of watershed science and their relationships with the local watershed.

We included a postage-paid card in our first set of take-home materials introducing the topic of watersheds. Students were encouraged to paint or draw a favorite spot in their watershed on a pre-addressed and mail it back to us. As we dove deeper, the materials focused on specific themes and investigations. For example, to explore the impacts of salinity in the watershed, we sent home seeds, salt, and other materials to test the effects of salt on seed germination and the freezing point of water. While we'd rather be tromping to the river with the kids, we've designed the activities to build curiosity about and connection to the watershed. We hope that this will allow us to jump into deeper learning once we can meet in person in the watershed.
As we look towards 2021, we are optimistic that we'll engage directly with participants in meaningful ways; if it is a good fit for the Boys & Girls Clubs. We're hoping to provide some optional online learning opportunities and in-person, socially-distanced outdoor activities like snowshoeing on local lakes and water quality testing at the Kasilof and Kenai rivers. It has been a challenging year, but we are excited to be working with such a creative, flexible, and committed team of partners, making cool things possible for 2021!