Celebrating Five Years of EE 30 Under 30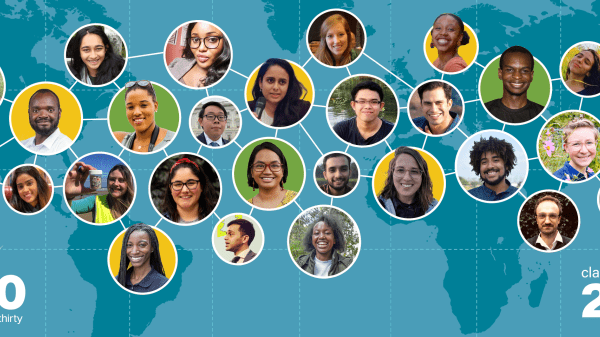 What does a sustainable and equitable future mean to you? This year we asked our EE 30 Under 30 Class of 2020 this question, and their responses very much reflected that a sustainable and equitable future is not one singular vision, but instead a tapestry that weaves together our many lived experiences and identities across the globe. Their visions also highlight the great importance of youth voices in shaping this future. Watch all their responses here.
EE 30 Under 30, NAAEE's global youth leadership program, aims to celebrate and support young leaders in environmental education through community, recognition, professional development, and funding opportunities. Learn more about the program here.
We have come a long way since recognizing our first EE 30 Under 30 awardees in 2016, from going international to expanding on the opportunities and community we're able to offer these young leaders. Now with 150 awardees and alumni from 34 countries, through this program we're honored to continue recognizing and supporting these inspiring individuals as they grow as leaders. And we continue to adapt our processes for outreach, recruitment, and professional development to best elevate and support the many ways young leaders are stepping up and using environmental education in their communities, recognizing that "leadership" does not mean the same thing to all of us.
But what hasn't changed over the years is the incredible passion, creativity, and resilience of our EE 30 Under 30 and the number of inspiring nominees we receive each year. We hear from so many of you about how hopeful and uplifting it is to hear the stories of how these young leaders are showing up at local, national, and global levels—showing up as leaders in all kinds of ways.
Now if you're asking yourself, "How can I meet them?!" then you're in luck! There will be many opportunities to hear from our EE 30 Under 30 at the virtual NAAEE Annual Conference next month, including:
On-demand presentations from our 2020 awardees (coming soon to the conference platform!)
Be sure to also check out the conference's many events geared specifically for young professionals, including the Young Professionals Clinic: Capitalizing on Your Strengths and Young Professionals Happy Hour.
And finally, thank you as always to our wonderful sponsors and partners that make this program possible: Wells Fargo, the Global Environmental Education Partnership, and the U.S. Forest Service.