Swoop and Soar: How Science Rescued Two Osprey Orphans and Found Them a New Family the Wild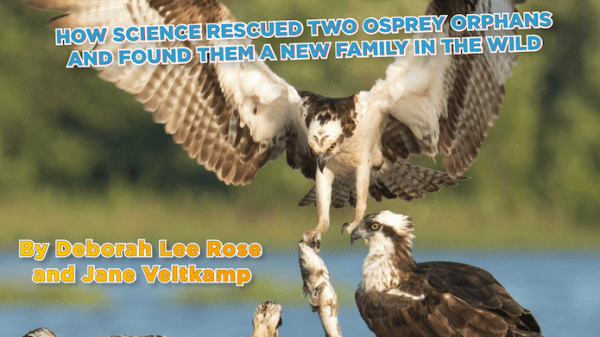 Two wild osprey chicks become orphans when a powerful storm shatters their forest nest. National STEM award-winning coauthors Deborah Lee Rose and raptor biologist Janie Veltkamp (Beauty and the Beak) tell the true, STEM-rich story of the chicks' rescue and how Janie used her scientific knowledge of ospreys and their ecosystem to help find them a new family and nest in the wild. Veltkamp, renowned for engineering Beauty the bald eagle's 3D-printed, prosthetic beak, is an environmental educator and founding director of the nonprofit Birds of Prey Northwest in northern Idaho.
Kids and adults will be fascinated to learn about ospreys' amazing adaptations, including diving feet first into the shallow water "strike zone" and crashing underwater to catch fish for themselves and their hungry families. Fact-filled backmatter also details how raptor biologist Janie Veltkamp and other scientists reintroduced ospreys to bring back the once endangered species, after the insecticide DDT wiped them out in parts of the U.S. and other countries. Ospreys are found worldwide except in Antartica. The book introduces readers to Janie's work rescuing ospreys threatened by current environmental challenges like extreme weather, habitat loss, and plastic pollution.