New York Sun Works Hydroponic Classrooms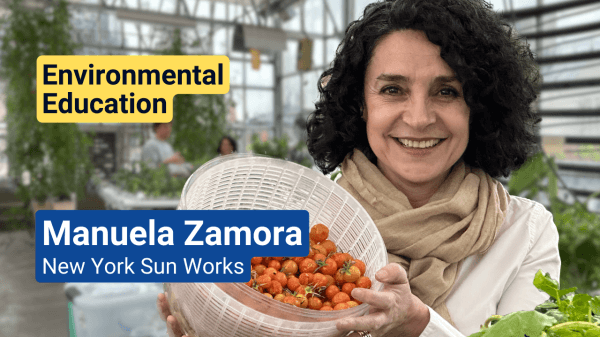 New York Sun Works Hydroponic Classrooms: Promoting Sustainability Science, Climate Education and Urban Agriculture
NY Sun Works stands out for its innovative and hands-on approach to sustainability education in public schools. With the goal of cultivating sustainability competencies and inspiring the next generation of citizens, NY Sun Works is bringing state-of-the-art hydroponic labs to hundreds of New York City schools. Through these living classrooms and comprehensive science curriculum, students use urban agriculture as a hands-on approach to meet the mandated learning standards while growing vegetables from seed to harvest.
NY Sun Works Executive Director, Manuela Zamora, gave an extended interview about the non-profit's background, programmatic goals, and teaching approaches. Throughout this two-hour interview, you'll get a peek into several classrooms in New York City schools. Please click on this YouTube link or the video thumbnail below to view the interview.
In the YouTube comments, please share which ideas in this interview you found most interesting and how you could adapt them to your program. Your comments will be shared with NY Sun Works.
Using this video interview as a case study, NY Sun Works and Cornell University are exploring the program's impact. As we began this research, we already knew that NY Sun Works aimed to equip students with the knowledge, sense of responsibility, and skills needed to address environmental challenges. However, we also found that education programs like NY Sun Works can contribute to sustainability beyond the classroom. For example, by using the NY Sun Works curriculum, schools can integrate sustainability into different subject areas, students become agents of change in their communities, positively impacting their urban environment ase they become more civically-engaged citizens.

NY Sun Works is making waves in the field of sustainability, climate, and environmental education. The program received the NAAEE Innovative Education Award for embracing E-STEM to inspire the next generation of business leaders, engineers, innovators, researchers and scientists in 2016. Through its cutting-edge hydroponic labs, interdisciplinary approach, and commitment to community engagement NY Sun Works shows that even in a bustling metropolis, we can cultivate a greener and equitable future.