Data in the Classroom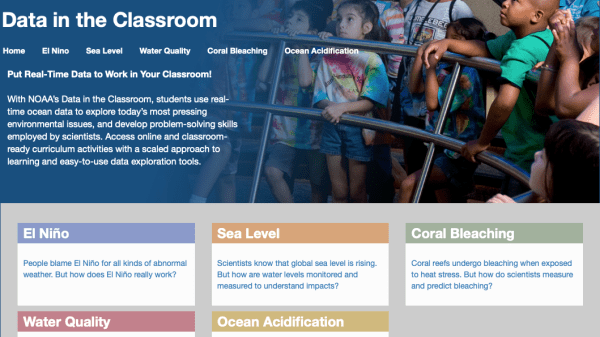 With NOAA's Data in the Classroom, students use real-time data to explore important environmental issues (El Niño, sea level rise, coral bleaching, water quality, and ocean acidification), and develop problem-solving skills employed by scientists. Access online and classroom-ready curriculum activities with a scaled approach to learning and easy-to-use data tools.  Teaching resources for each issue area include a Teacher's Guide, Supplemental Power Point, Student Activity Sheets, and Science Standards Correlations.
Data in the Classroom (DITC) is an incredible way to start teaching with scientific data from NOAA. DITC breaks data down into its fundamental components and starts by answering basic questions like what are x and y axes? And what is a false colored map? Once students become more comfortable with what data is, they are taught how to find, use, and interpret data, finally concluding with a research project they design themselves. DITC is flexible and can be used in whole or in part, depending on what works best for your students.