Save the Date: NatStart 2021 Virtual Conference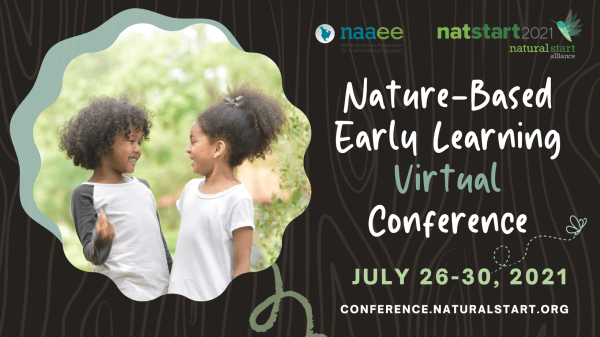 NatStart2021 is Staying Virtual!
For you, for the planet 
We long for a time when we can be together and share a laugh and a drink, without risk. And when that time arrives, the Natural Start team will be thrilled to welcome you in person for what's sure to be a celebration of learning and, most importantly, fun! After thoughtful consideration, we've decided that this summer is not that time. So we're moving ahead with a renewed commitment to advancing nature-based early learning and promoting equity and accessibility. We're going to lean into the benefits of a virtual conference—from a lower environmental impact to a bigger variety of content, all at a lower cost—because we truly believe it is the best way to serve our community in 2021. We want you there with us.
Interested in presenting at this year's conference? The Call for Presentations will open in early December 2020. Check back here for details.
Here's what our 2020 Conference attendees said (and why you'll want to tune in on 2021): 
"This has been an incredible conference and  experience and I am blown away by how you've created such a dynamic and enriching platform! Great work! Even if we're online next year, I will still attend!"
"Truly amazing. I have learned so much. And (bonus) I've got resources that were shared by presenters to KEEP me learning for months!"
Still not convinced? Here are five more reasons you'll love the virtual conference experience: 
Lower Cost. A virtual conference has fewer expenses, meaning we can offer the same quality learning experience at a much lower price. And our pay-what-you-can scholarships make registration affordable, no matter your budget. 
Better for you and the planet. The coronavirus isn't transmittable through your laptop, so there's no risk of getting sick, even in a crowded (Zoom) room. And by not travelling, we're collectively keeping tons of carbon out of the atmosphere. High five! 
No subs or babysitters needed. Join live or watch sessions on-demand when it makes sense for you, with access to sessions for a full year. 
Network across the globe. NatStart2020 was our biggest conference yet, welcoming more international attendees than ever before. That means more diverse perspectives and a more inclusive event.
More sessions, more flexibility, no FOMO. Over 100 sessions led by professionals on a wide range of topics in a variety of formats. Choose what you watch, watch when you want. And because they're all recorded, you don't have to miss a thing. 
Mark your calendars for July 26-30, 2021, and let your friends and colleagues know you'll be joining us for #NatStart2021!