President's Environmental Youth Award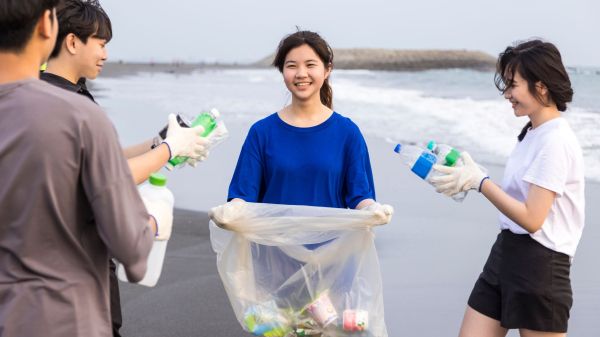 History and Basic Information about the President's Environmental Youth Award
The President's Environmental Youth Award (PEYA) recognizes outstanding environmental stewardship projects developed by K–12 youth. The PEYA program promotes awareness of our nation's natural resources and encourages positive community involvement. Since 1971, the President of the United States has joined with EPA to recognize young people for protecting our nation's air, water, land, and ecology. It is one of the most important ways EPA and the Administration demonstrate commitment to environmental stewardship efforts created and conducted by our nation's youth.
Each year the PEYA program honors a wide variety of projects developed by young students, school classes and clubs, youth camps, and youth organizations to promote environmental awareness and action in schools and communities. Thousands of young people from all 50 states and the U.S. territories have submitted projects to EPA for consideration. Winning projects in the past have demonstrated impact in schools and communities in a wide range of subject areas. Participation in the PEYA program is frequently a life-changing experience for many of the young people and their project sponsors.
How to Apply for the National Award Program
Step 1: Confirm Competition Eligibility
Project is completed while the applicant(s) is in kindergarten through 12th grade.
Applicant(s) is a citizen of the United States or its territories or has been lawfully admitted for permanent residency.  Applicant also resides in a U.S. state, territory, or tribal land.
Project is sponsored by at least one adult 21 years of age or older. See below for more information regarding sponsors.
Project started during the 2023 calendar year and had activity during the 2023 calendar year.  A project initiated prior to 2023 is also eligible for consideration as long as the project had activity during the 2023 calendar year.
Project must include an environmental stewardship component as defined below.
Step 2: How to Apply
Application period now open and closes on January 15, 2024.
Each applicant or team of applicants applying for PEYA must be represented by at least one sponsor who submits the application to EPA and serves as EPA's point of contact for the application. The application form and all application materials should be typed, but there are no defined font or spacing requirements as long as materials are legible.
Download the PEYA application (pdf)

(937.02 KB)

CONFIRM ELIGIBILITY: Applicant sponsor/co-sponsor confirms that applicants meet all eligibility requirements by completing the Eligibility Self-Screen Checklist on page 6 of the application form.
COMPLETE APPLICATION FORM: Applicant sponsor/co-sponsor completes the PEYA application provided on pages A1-A3 of the form.
SUPPORT APPLICANTS TO PREPARE INFORMATION: Applicant sponsor/co-sponsor supports grade 6–12 applicants by gathering project information written by the applicants. Applicant sponsor/co-sponsor supports grade K–5 applicants by helping the applicants to write and gather project information. Excess pages submitted beyond the limits stated below will not be considered. Carefully consider inclusion of web links that clearly support the project description and/or supplementary information in conveying how the project achieved applicable review criteria as reviewers will not click on more than 5–6 web links per application.

PROJECT SUMMARY: The Project Summary, up to 300 words, is intended to describe the project's purpose and goals and identify the results achieved. Space for the Project Summary is provided on page A-3 of the application form.
DETAILED PROJECT DESCRIPTION: Grade 6–12 applicants are required, and grade K–5 applicants are encouraged to provide a more detailed description of the project preferably organized by each of the evaluation criteria indicated below. The Project Description must be no more than 5 pages or 5 slides.
SUPPORTING MATERIALS: Applicants may submit up to 5 additional pages of optional supporting materials; for example, photographs, newspaper articles, or other information to provide a more comprehensive view of the project. Accompanying videos may be submitted, although applicants must provide a web link to where the videos can be viewed online. Please DO NOT send video files by email; video files sent by email will not be reviewed.

SIGN AND DATE APPLICATION: Sponsor/co-sponsor must sign and date page A-3 of the application form. Signatures must be either electronic or ink-on-paper for applications submitted by mail; typing in the sponsor's name does not fulfill the application requirements. Page A-3 can be submitted as a separate file if needed.
COLLECT PARENT-SIGNED FORMS: Sponsor/co-sponsor collects signed and dated permission slips and media release forms from each applicant's parent/guardian. Contact peya@epa.gov if applicant is age 18 or older at time of submission.
COMPLETE THE PRE-SUBMISSION CHECKLIST: Sponsor/co-sponsor completes the pre-submission checklist in the application form.
SUBMIT THE APPLICATION BY JANUARY 15, 2024: See instructions below for submitting an application.
Step 3: Submit the Application
To protect the online privacy of student applicants, applicant sponsor/co-sponsor gathers and submits application materials.
Sponsors are strongly encouraged to submit all application materials electronically (email). If you plan to mail some or all of your application materials, please contact us at peya@epa.gov so that we can ensure receipt.