2021 Inclusive SciComm Symposium Call for Proposals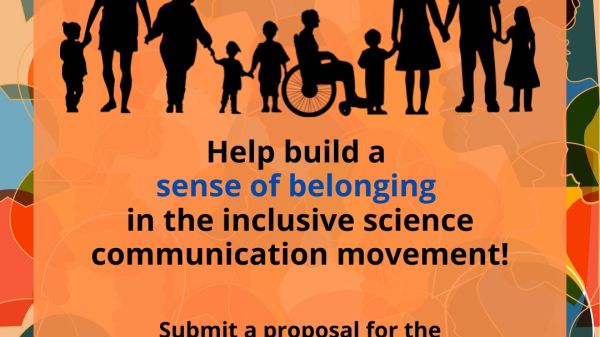 The University of Rhode Island's Metcalf Institute and the symposium planning committee invite you to submit proposals to participate in the 2021 Inclusive SciComm Symposium, which will be held virtually over three half-days, October 14-16, 2021. Read more about the 2021 symposium here.
2021 Inclusive SciComm Symposium Themes
Theme 1: Decolonizing science communication
Proposals within this theme might address: introductions to decolonizing science/scicomm; successful examples of decolonizing scicomm; material actions to decolonize scicomm vs. metaphorical decolonizing; multilingual scicomm; foregrounding non-Western methods; integrating multiple ways of knowing.
Theme 2: Dismantling oppressive/exclusionary institutional structures
Proposals within this theme might explore the ways that inclusive SciComm can be used to address or discuss: scientific gatekeeping; whose perspectives are amplified/silenced; defining what "expertise" is and who is considered to be a "scientist"; moving from "outreach" to "engagement"; institutional change; facilitating difficult conversations across difference; ethics of the practice, role, or responsibility of science communicators and communication.
Theme 3: Building a supportive and collaborative Inclusive SciComm community
Proposals within this theme might address: building and supporting equitable relationships and collaborations with marginalized communities; supporting inclusive SciComm in your organization; moving past "firsting"; building a sense of belonging in the movement; caring for the science communicator (e.g., strategies for countering burnout).
Proposals should connect to one or more of the three themes. Across all themes, we strongly encourage submissions that represent multiple perspectives, integrate research and practice, and provide guidance and experiences that will help symposium participants put knowledge into action.
We acknowledge that, within each of these themes, relationships are inevitably affected by power dynamics and that we can shift them through various radical acts of care. Therefore, we strongly encourage submissions that consider the influence of power dynamics in SciComm; how to care for science communicators who are engaging in the paradigm shift toward equitable, inclusive, intersectional SciComm; how to facilitate difficult conversations across differences; and how to care for diverse communities through inclusive SciComm.
Deadlines
Proposal deadline: July 14, 2021
Registration opens: July 2021
Proposal notifications by: August 20, 2021
Asynchronous material (videos, slide presentations, PDFs, etc) submitted to the conference platform: September 24, 2021, synchronous events: October 14-16, 2021
Symposium Session Formats
Proposers may choose from a variety of symposium formats:
Single presentation, not a lightning talk (the symposium organizers may combine relevant presentations into a single panel)
Panel discussion with Q&A (live session during the symposium with 2-4 presenters; does not include breakout groups)
Workshop (live session during the symposium; may be based on asynchronous material if desired, may include breakouts)
Roundtable discussion (moderated topical discussion held live during the symposium)
Community-building or networking activity
Lightning talk (3-5 minutes; asynchronous; pre-recorded video to be submitted by September 24, 2021)
Other event (e.g., spoken word, film, etc.)
Accessibility
The symposium will provide ASL interpreters for the keynote lectures and captioning at all events. Please make requests for any additional accessibility needs in your proposal.