Youth Community Civic Action Process Educator Workshop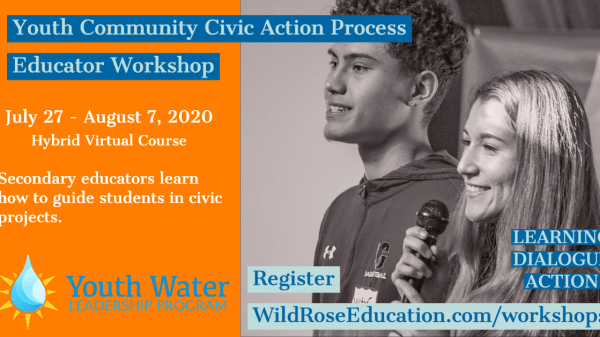 Learn from the Youth Water Leadership Program a process for creating student-centered learning opportunities for secondary students. Through interactive activities and discussions we will explore nationally proven tools to help you get started with student lead community action projects. Dive into the process with a real-world issue you are passionate about. Get access to free tools that incorporate youth voice, student-driven inquiry, democratic decision-making, and place-based authentic problem-solving. Prepare students for life-long environmental stewardship, civic engagement, and collaborative action.
Live synchronous virtual meetings and asynchronous independent homework woven together for a meaningful educational experience for participants using Canvas and virtual discussion technology.
Course will be open from July 27-August 7 with live virtual meetings interspersed throughout the two week period.
Registration: $90 early registration, $110 after July 15, 2020. Inquire about partial scholarships. 
Optional 1 graduate-level relicensure hour is available from the Colorado School of Mines for additional $55.