Using Universal Design Principles In and Out of the Classroom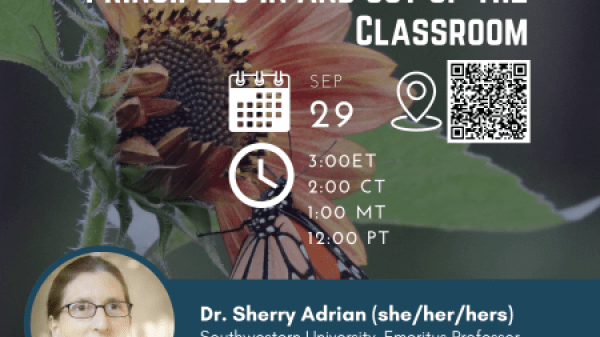 When you use Universal Design Learning principles, you assume that barriers to learning are in the design of the environment, not the student. Dr. Sherry Adrian will demonstrate how to use this concept to make outdoor learning more inclusive.
Dr. Sherry Adrian is an educator with over 40 years of experience in public school classrooms, psychiatric treatment facilities, and university classrooms. This webinar will introduce Universal Design Learning, a framework that guides the design of learning experiences to proactively meet the needs of all learners. Dr. Adrian will demonstrate how to use UDL in environmental education settings and specifically refer to modifying Project WILD materials.
This webinar takes place on September 29 at 3 PM ET.
Registration is required. Please sign up using this registration form.
This webinar will be recorded.