Tributaries of Life: A Watershed Inquiry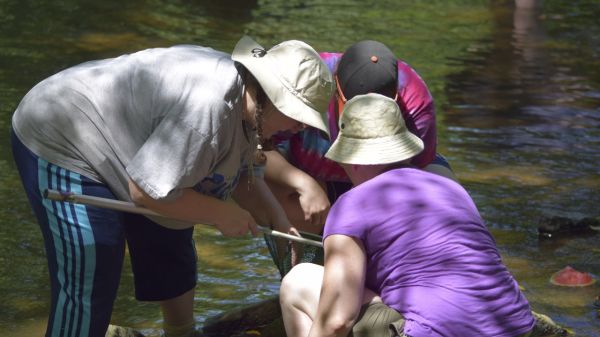 Introduction
This watershed course for formal and nonformal educator professional development is place-based and hands-on in nature. It is NorthBay's renowned watershed field course for educators packaged into an online format. A variety of learning pedagogies are used to provide a holistic, integrated, engaging experience.  It is designed for educators who work with students in 6th - thru 12th grades.
What You'll Learn
Educators will increase their freshwater ecology knowledge and learn how to facilitate student-directed watershed inquiry that includes action projects.
What You'll Do
Participants in this course will practice sensory-based activities outdoors and keep a journal to record their reflections. Participants will read, watch videos and conduct fieldwork to learn essential watershed content. Using scientific protocols, participants will conduct research and use their findings to develop an action plan.
Course Outcomes
This course is designed to provide everything educators will need to feel confident and inspired to take their students outside to conduct research at a local stream, river or school yard. In addition to conducting inquiry, educators will learn how to conduct meaningful action with their students. Learners will find inspiring stories about classes who have leveraged research findings into solutions for local stream/river issues, and shared them with their communities. This last step of action demonstrates to the rest of the community what is possible.
During this course learners will:
become intimately acquainted with their local waterway as an educator, a citizen-scientist, storyteller, stream snorkeler (optional), witness and participant in the stream community and watershed.
become aware of how using inquiry in a watershed context can help reach existing academic standards and curricular goals.
identify and understand the reciprocity of our relationships with freshwater systems, recognizing that the choices we make affect the capacity of all nature to flourish.
strengthen knowledge of freshwater ecology.
practice inquiry to address a local watershed issue.
develop the confidence to share this integrated approach to teaching stream ecology; enabling students to experience the stream community from multiple perspectives and conduct meaningful research that will lead to lasting solutions for local watershed issues.
Course Expectations
Please read the course expectations carefully to decide whether or not you have the time to join us on this learning journey. Once you begin the course, you will have six weeks to complete it. We expect you will spend approximately 45 hours working your way through, and upon successful completion, you will receive the number of professional development units your state approves for a 45 hour program. Please note that this course will require a minimum of six stream visits to the stream of your choice.
Here is a list of what we will ask participants to submit:
At least one journal entry from each stream observation for a minimum of six entries. Journal entries can be text, watercolors, acrylics, collages or a combination of media. We want learners to express their experiences in ways personally meaningful.
Evidence of one practice that is outside a comfort zone – we are NorthBay, an organization which asks people to go beyond perceived boundaries.
A mini research project about a pressing local watershed issue.
Evidence of practice/research with students.
A final multimedia project to represent what has been learned and applied personally and professionally, including any transformational or "ah-ha" moments.
Other assignments are found throughout the course. We won't ask learners to submit them, but we will ask educators to complete them on their own or together with students. Students will likely appreciate seeing their instructors as fellow learners.
What You'll Need
Reliable internet
Access to a non-tidal stream or wadeable river
A journal
Curiosity
Want to Know More Before Registering? Sign up here: https://info.pace.oregonstate.edu/free-webinar-essential-insights-on-teaching-stem-in-the-great-outdoors for a free informational webinar on Thursday, April 4. 3:00 - 4:00 pm EDT
About NorthBay
NorthBay Education Inc. exists to empower people to realize that their attitudes, choices and actions matter. NorthBay, a national organization, engages youth and adults in a transformative, multi-faceted outdoor education program. The NorthBay experience motivates people to become more connected to their communities, and to contribute to the world in positive ways.