Our Climate, Our Communities: Science, Systems, and Solutions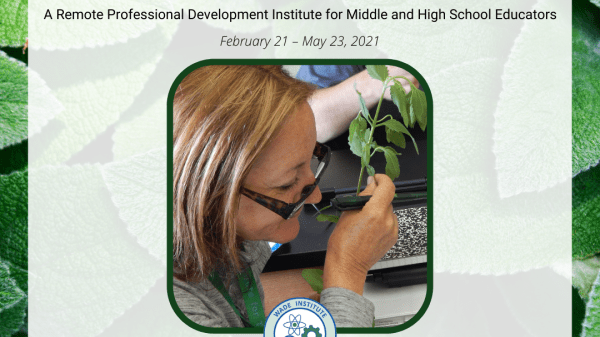 How can you prepare your students to engage with the complex concepts and rapidly developing issues related to climate change? Connect with climate change experts and resources during this hybrid institute! Participate in live virtual sessions combined with asynchronous online learning to engage in climate and energy investigations, talk directly with scientists and engineers, explore your own local resources, and develop units and investigations you can use in your socially distanced or remote classroom. Leave the course with tools and resources for integrating climate change concepts into your instruction and the confidence to engage your students in active discussion, sense-making, and problem solving around challenging and dynamic topics of climate change.  
Guest Speakers include:
Bob Chen, PhD, Professor and Interim Dean of School for the Environment, UMass Boston
Emily Flaherty, Ocean Literacy Educator & School to Sea Director, Salem Sound Coastwatch
Gene Fry, PhD, Global Warming & Energy Efficiency Consultant
Jane Heinze-Fry, PhD, Climate Change Educator & Special Projects Director, Wade Institute for Science Education
Richard Rys, Principal, R2 Controls
Dan Kittredge, Executive Director, Bionutrient Food Association
Tamara Ledley, PhD, President, Earth Science Information Partners
Lorena Estrada-Martinez, PhD, MPH, Assistant Professor of Public Health, UMASS Boston
Carolyn Meklenburg, Greater Boston Regional Coordinator, Municipal Vulnerability Preparedness Program, MA Executive Office of Energy and Environmental Affairs
Trevor Lloyd-Evans, Director, Landbird Conservation/Growing Knowledge, Manomet
Gabi Serrato Marks, PhD, Freelance science writer
Dates:
Online Modules: February 21st – May 23rd
Virtual Sessions: February 27, March 13, March 27, April 10, May 1, May 8
Cost: $425/participant; $400/participant if registering with one other colleague from the same school/district; $375/participant if registering with 2 or more colleagues from the same school/district (team discount is only applicable at time of registration).
PDPs and Graduate Credit available.