Environmental Education & Community Engagement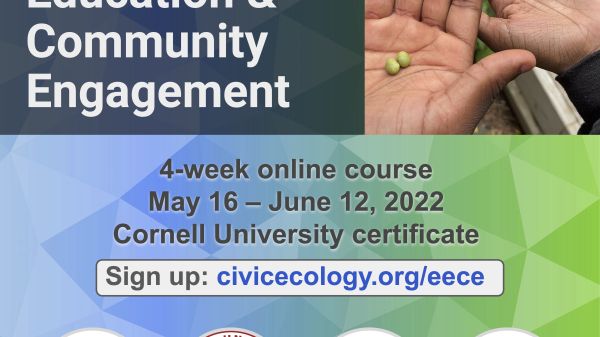 This 4-week online course (May 16 - June 12, 2022) is about creating partnerships between environmental education programs and community members who aim to achieve shared goals through stewardship or advocacy. Course participants from all over the world will learn from lectures, webinars, and each other, and will create a plan for community engagement in their programs. The course is mostly asynchronous. Course certificate from Cornell University (20 professional development hours).
This course is designed for environment and education professionals, volunteers, university students, community leaders, and any citizens from any country.
During this 4-week course, participants will:
Review and create new ideas for community engagement goals and strategies,
Exchange practical ideas for community engagement with peers and receive feedback from the instructors, and
Develop a plan for community engagement in your own educational program.
The final project is creating a 1-page community engagement plan for your organization or coming up with new ideas for community engagement in environmental education, stewardship, and advocacy. Selected final projects will become part of an ebook that will be featured on the Civic Ecology Lab website and made available to other environmental educators.