En-ROADS Climate Simulator Workshop, Dec 17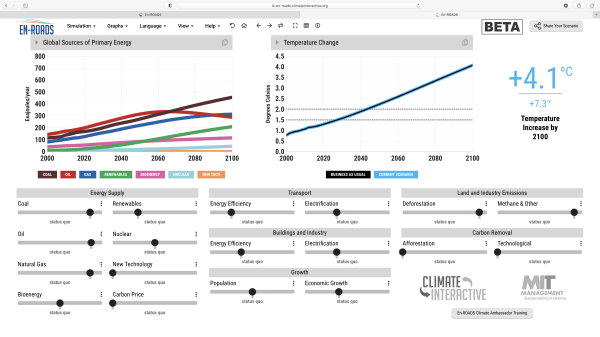 The En-ROADS Climate Simulator, developed by Climate Interactive and MIT Sloan, enables people to learn for themselves what it will take to avoid the worst consequences of global warming before it's too late. It is designed for educators, policy makers, leaders in business and civil society, and those interested in identifying high-leverage climate solutions. It allows people to try their own scenarios and assumptions, and get immediate feedback on the likely impacts of their actions. 
Run through scenarios and ways to use this free resource! This event will begin as a typical En-ROADS Workshop where we investigate the impacts to global warming from different policies in energy supply, building and industry, transportation, land use, growth and carbon removal. 
The event will conclude with an introduction to the supplemental curriculum tools available for the simulator, such as the guided assignments and the fun UN Climate Summit Role Play Game!
This will be an interactive event, so come with your questions about the solutions to global warming!
This event is facilitated by Susan Golden, an En-ROADS Ambassador and Climate Reality Project Leader.