Empowering Students Through Active Assignments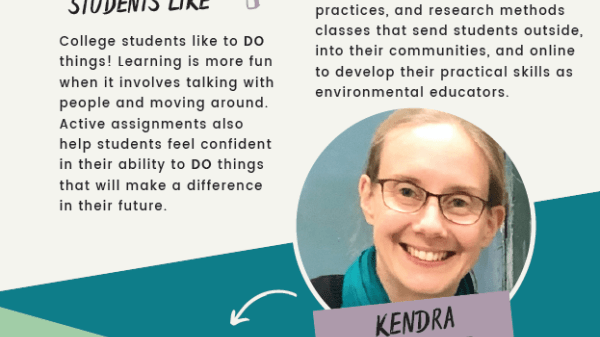 What do college students like?
College students like to DO things! Learning is more fun when it involves talking with people and moving around. Active assignments also help students feel confident in their ability to DO things that will make a difference in their future.
This webinar will share activities and assignments from environmental education, inclusive practices, and research methods classes that send students outside, into their communities, and online to develop their practical skills as environmental educators.
Speaker:
Kenda Liddicoat, Ph.D., is an associate professor of environmental education in the College of Natural Resources at the University of Wisconsin-Stevens Point. Her research and teaching focus on the impacts of environmental education programs and on inclusive practices in outdoor education settings.
This webinar is funded by ee360+(a consortium of 27 partners led by the North American Association for Environmental Education and funded by the US EPA).