Climate Action: The Role for Education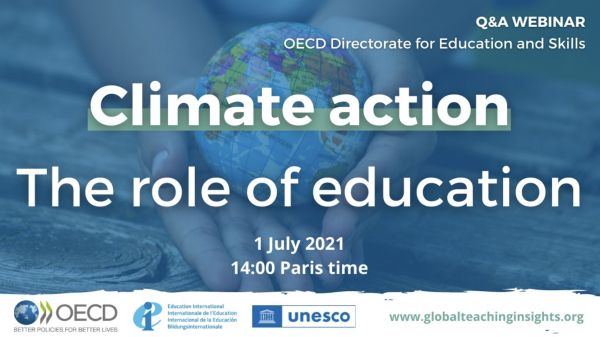 Transforming how our next generation thinks about the environment requires profound changes in teaching and learning. Research shows that teachers are committed to teaching about climate change and sustainability, but too often are not provided with the training, tools, time, professional autonomy or support they need to do so effectively.
Since teachers lie at the heart of any change in education, including education on the climate, the OECD, UNESCO, and Education International are launching a joint initiative to gather teaching expertise on what makes a difference in empowering students for climate action, and develop a mentoring network to help teachers learn from each other as well as from leaders in the field.
Join Andreas Schleicher, OECD Director for Education and Skills, Susan Hopgood, President of Education International, Vibeke Jensen, UNESCO's Director of Peace and Sustainable Development, and key stakeholders from across the international education community for an online event to launch this collaborative initiative.
The webinar will focus on the unique role that the education sector can play in building a greener 21st century.