Thriving Climate: California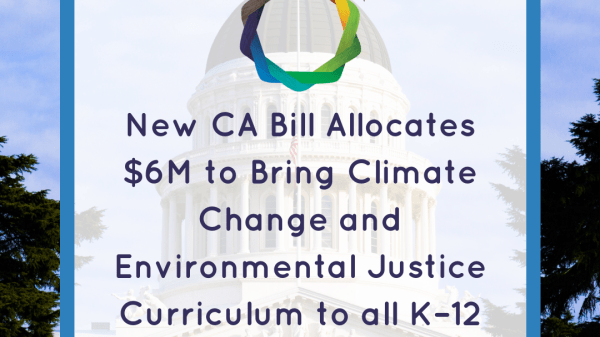 July in California was hot. And not just because temperatures in the state were the highest on record. A new bill passed by the state legislature aims to use education to reverse the effects of climate change by bringing climate and environmental justice curriculum to all K–12 students in the state. Just how much funding is allocated to this initiative? $6M! 
From Ten Strands: 
Dear Friends and Partners, 
We thank you for your invaluable support of the trailer bill appropriating $6 million to create free educational resources on climate and environmental justice as part of AB 130. Thank you for your critical role in achieving this!
The bill appropriates "$6,000,000 from the General Fund to the Superintendent to allocate to the San Mateo County Office of Education (SMCOE) to contract for the creation of free and open education resources on climate change and environmental justice and the integration of certain environmental principles and concepts." SMCOE will partner with Ten Strands to create K–12 standards-based curriculum. There were more than 165 endorsers of the bill.
Check out the full story HERE.