Starting a Nature School from Scratch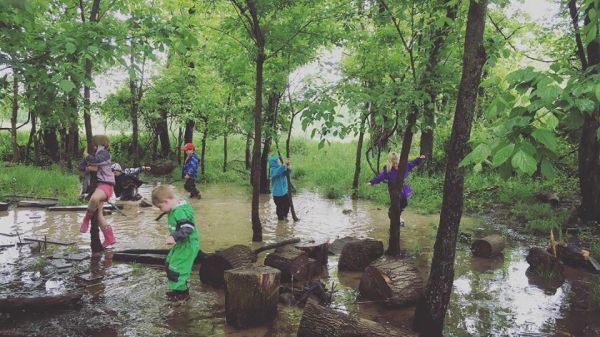 Several years ago I found myself frustrated and disillusioned by the intense emphasis on academics at my urban public charter school (even for 3s and 4s!) that left little time or space for fostering the types of "soft" skills I knew my students needed in order to be successful long term: self-regulation, resilience, confidence, and a willingness to challenge themselves and take risks.I knew I had to make a change, and began researching alternative models of early childhood education. I stumbled upon the "Forest School" model and quickly fell in love with the approach. At the same time, my now-husband and I had the opportunity to move out of the city where we were living and onto an old family farm that had been in my family for generations. Our new setting provided the perfect location for launching my own nature-based early childhood program, and that's what I did.
While "Forest Kindergartens" and outdoor preschools are gaining popularity nationally, the regulatory frameworks in many states haven't caught up. West Virginia, where I'm based now, is no exception. I discovered that the best option was to open a registered home child care program, which met all the standard state criteria, but to spend the bulk of our time outdoors, exploring the woods and fields around our home.
For the last several years I've run Riverside Nature School, a part-time program for children ages 3 to 6. At Riverside Nature School, our approach offers children the chance to engage in deep, meaningful learning, becoming creative problem solvers and life-long learners along the way. To do this, we've made a conscious decision to shift the balance from direct-instruction to an exploratory, student-driven learning model.
At the heart of our model is a commitment to authentic nature play; to allowing children to simply be in nature. Rather than following strict lesson plans, our days our guided by a sequence of core routines (many of which are directly inspired by Jon Young's "Coyote Mentoring" model), some more structured than others:
Opening & Closing Circles
Our day is bookended by opening and closing circles, core routines that foster a sense of belonging, giving each child the opportunity to be seen and heard as an individual while simultaneously reaffirming their membership in the class community.The Responsive Classroom morning meeting framework dovetails nicely with a routine-focused model; it emphasizes four key elements (greeting, sharing, a group activity, and a morning message) that offer a consistent structure while still leaving plenty of flexibility for student needs and interests to shape the nature of those elements.
Wandering
The bulk of our day - a minimum of an hour and a half of uninterrupted time -  consists of unstructured outdoor wandering. We return day after day to a handful of familiar outdoor locations, where the children are free to play and explore as they see fit. I bring some essential tools and supplies with me to make sure we have what we need to make the most of our time outdoors, but beyond that I try to step back and leave the children to their own devices as much as possible.
While there's no formal instruction that takes place during this time, there's no shortage of learning, either. Leaves are collected and exchanged as currency, helping to hone math skills, and sidewalk chalk is used to create signs on scraps of wood, allowing the children to practice their writing skills in a meaningful context. Building ramps and bridges allows the children to explore engineering and physics while simultaneously developing their gross motor skills by carrying heavy objects and balancing on slippery or uneven surfaces.
Mindfulness
In our program we use the walk from our indoor classroom to our outdoor space to quiet down and tune in: we walk slowly and as silently as possible using stealthy "fox walking," and turn on other animal senses like our "owl eyes" and "deer ears" to enhance our powers of observation.
A sit spot practice is another great outdoor mindfulness routine, and there are countless other methods for including mindfulness indoors as well.
Weather Tracking
A simple weather tracking routine builds upon the children's deeply personal relationship to the weather, offering them a richer understanding of the world around them as well as the opportunity to integrate some important math and science skills. Connecting numerals with quantities, comparing, measuring, and using tools to perform tasks are all key early childhood learning goals, and a weather tracking routine gives children daily at-bats with all of these skills in a context that's meaningful rather than abstract.
Gratitude
Just like with mindfulness, the research is clear that having a routine gratitude practice is good for overall health and wellbeing. This can be as simple as pausing before a meal to sing a song of gratitude or say a blessing, or expressing thanks to classmates at the end of the day. When children begin to see gratitude as an integral habit, you'll likely see the benefits carrying over to the social interactions in your class.
Story of the Day
Another one of Jon Young's core routines, telling the story of the day, is a practice as old as humankind that promotes transfer of knowledge, fosters reflection, and builds empathy and understanding. Often done orally, I've found in my program that a whole group journaling practice is a fantastic way to incorporate a full spectrum of literacy learning, from reading and writing to speaking, listening, and language skills, into the process. We include this practice as part of our closing circle, and it aligns nicely with the Responsive Classroom framework's emphasis on ending the day with reflection and celebration.
I see so much value in this approach to early childhood education, and am passionate about helping it go more mainstream. I believe that nature play should be a right, not a privilege, and am so excited to see more and more people working to incorporate outdoor play and learning into traditional school settings.  
Emma Huvos is the founder of Riverside Nature School and Wonderkin, a monthly subscription box that supports children's connection to nature. She will be hosting a discussion on eePRO from Monday, Oct. 15 to Wednesday, Oct. 17 to share her expertise and answer any questions you may have.