Running Out of Time—Join the World's Biggest Climate Change Relay!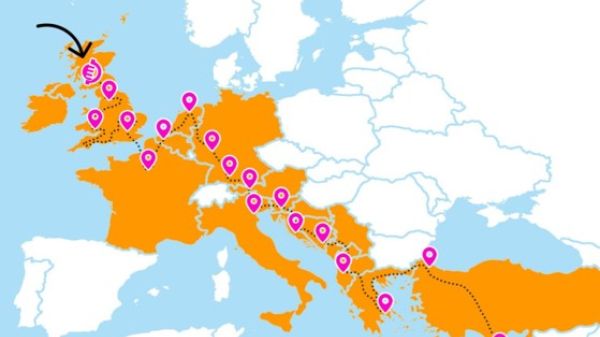 The impact of climate change on our planet will be felt most by our youth and future generations. Their collective voice needs to be heard. We aim to deliver their message, held within the relay baton, with so much support that it is impossible to ignore! 
From the opening ceremony in the COP26 host city, Glasgow, on September 30th, 2022—where the message will be sealed in the baton—the relay covering 7200 km will journey through 18 countries—UK (Scotland, Wales, England), France, Belgium, Netherlands, Germany, Austria, Italy, Slovenia, Croatia, Bosnia and Herzegovina, Montenegro, Albania, Greece, Cyprus, Israel, Egypt—arriving in Sharm el-Sheikh, Egypt on November 6th, 2022 in time for COP27 which will take place from November 7th–18th, 2022.
Running Out of Time will be the longest non-stop relay ever attempted, with runners, cyclists, and sailors working together to pass a baton hand-to-hand containing a powerful climate message crisscrossing seas, mountain ranges, glaciers, and deserts and visiting schools, at-risk locations, and climate change projects meeting scientists, engineers, and designers at the forefront of the green revolution to better understand what is happening to our planet and to inspire local climate action.
Once in Egypt, up to a million pupils from around the world will be brought together on November 3rd for a Global Schools Day!