Public Health and Climate Stories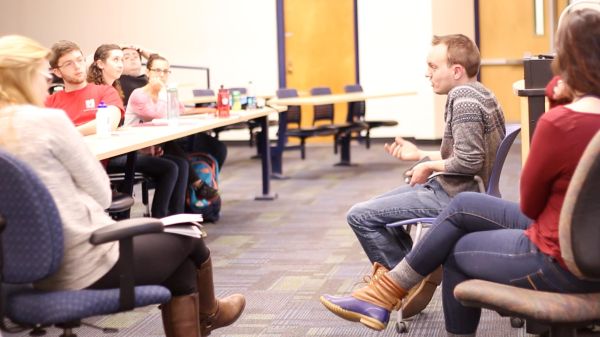 Climate Stories Project (CSP) is an educational and artistic forum for sharing stories about personal and community responses to climate change. Musician, educator, and CSP director Jason Davis began the project in 2014 as an EE Capacity Community Climate Change Education Fellow. Davis has recorded audio and video interviews with diverse participants from North America, Europe, and Asia, and has run workshops with high school and college classes in Maine, Connecticut, Alaska, and Massachusetts in which students conduct, record, and share interviews with local and remote community members about their personal and community responses to climate change.
Between February and April 2016 Davis is working with undergraduate public health students at the University of Massachusetts Lowell to help foster a deeper understanding of local impacts and responses to climate change in public health. Students in professor Craig Slatin's Politics of Health class are learning how to talk about climate change on a personal level, practicing interview skills, setting up, carrying out, and recording climate change-focused interviews with public health professionals in the Lowell area.
Students in the class have been studying the large-scale connections between climate change and public health, including the spread of insect-carried disease, increases in heat waves and extreme weather, and stresses on fresh water supplies and infrastructure. With their involvement in Climate Stories Project, the students are learning to connect local observations, responses, and predictions of climate change to the "big picture" of climate change and public health.
As a future extension, students in the class may also develop creative projects using the recorded interviews, such as digital storytelling or art projects. As an example, Davis has introduced his own work with his jazz group Earthsound (earthsoundmusic.net), for which he has written and performed several pieces featuring interviews recorded for Climate Stories Project.
Are you excited to deepen students' connection to climate change as a local and community issue, while improving their communication and empathy skills? Climate Stories Project is looking for high school and college educators who are interested in facilitating Climate Story Workshops in their classrooms. Please visit climatestoriesproject.org and contact jason@climatestoriesproject.org for details about how to get involved.