Pearls of Faith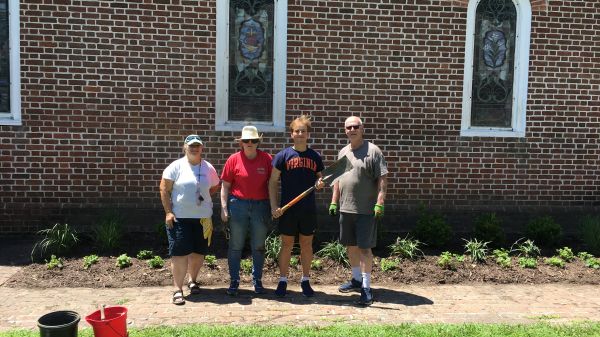 Last weekend, I attended the dedication of a Peace Pole at Westminster-Canterbury (W-C), the largest retirement community in our area.
A Peace Pole is a beautiful piece of wood with the word "Peace" carved on each side in many languages.
A soft bay breeze perfected my stroll through the expansive native gardens where the dedication took place. The inspiring shores of the Chesapeake Bay in Virginia Beach move the mind, the body and the spirit. With the placement of that Peace Pole by Chaplain Jenny Spivey, the Chapel at W-C earned its designation as a Pearl Faith Community.
"Coordinator of the Pearl Faith Program" is just one of the hats I wear with Lynnhaven River Now (LRNow), but the hat fits me well. I work with faith communities to help them find ways to green their practices and care for the creation around us. Together, we learn how to save energy, increase biodiversity, reduce stormwater runoff, move away from disposables and plastics, and protect our waterways. We also collaborate with communities to install solar equipment and rain barrels. Projects may also include planting native gardens, washing dishes, and providing children's nature-based programs.
Lynnhaven River Now Pearl Faith Community Program works with communities to make meaningful changes that will positively impact the Earth, their faith-based spaces, and the world around them. Pearl Faith Community Members continue to educate themselves and make lasting decisions that build resiliency and care for the natural gift around them.
Once a faith community makes structural and outdoor changes, and offers environmentally-based activities and education to their members, that community can be recognized as a Pearl Faith Community. Being a Pearl Faith Community means that the community is dedicated to caring for our environment as part of their congregational mission.
But, the objective—the real joy—of the program is people coming together to nurture the nature that nurtures us. By recognizing and appreciating the bountiful planet that is our home, we care for this incredible world as a gift to be cherished.
I would love for you to share how you work in communion with others to manifest Spirituality and EE in your community. For me, it comes down to placing my hands on the earth with others to care for this wondrous world.