Natural Start Training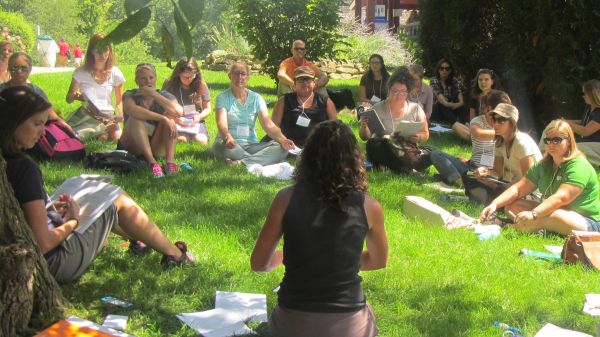 Workshops at Natural Start Official Training Sites help educators plan and implement high-quality, developmentally appropriate programs for young children. Every Natural Start workshop is a full-day experience of immersion in nature, professional development, and networking. Trainings are coordinated by our Official Training Sites in Maryland, Michigan, and Washington, and include an extended guided tour of a model nature preschool. Each workshop topic will also be introduced in a free one-hour webinar.
Documenting and Assessing Learning in the Outdoors 
If you are tired of worksheets or simply don't believe that they are the best way to document the skills of early learners, this workshop offers practical, authentic alternatives that are particularly effective for documenting outdoor learning, including photographs, work samples, and anecdotes.
Free introductory webinar: Wednesday, February 22, 4pm ET/1pm PT
Creating Outdoor Spaces That Encourage Exploration and Discovery
Outdoor play spaces are a critical component of any early childhood education program. This workshop explores the benefits of natural playgrounds and "special spaces" that challenge a child's physical, emotional, and cognitive growth, and helps educators think about using their outdoor spaces to encourage learning in all developmental domains.
Free introductory webinar: Tuesday, February 14, 4pm ET/1pm PT
Early Childhood STEM: Using Nature to Drive Learning
Nature is the perfect vehicle for engaging children in science, technology, engineering, and mathematics (STEM). This workshop helps you to look at STEM in the context of early childhood development, gain a comprehensive understanding of the STEM framework, and start developing a portfolio of ideas.
Free introductory webinar: Tuesday, February 7, 4PM ET/1pm PT.
For more information, including workshop dates, locations, pricing, and registration, visit http://naturalstart.org/training.