My EE 30 Under 30 Experience: Spokane 2018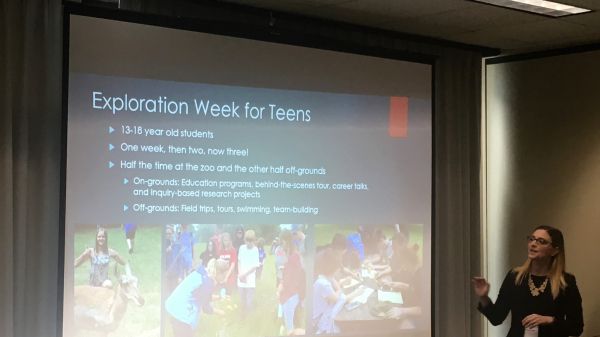 My experience as an EE 30 Under 30 with the North American Association for Environmental Education (NAAEE) has been thought-provoking and uplifting. When I first learned about being selected for this honor back in August, I was overwhelmed with excitement and humbled to be associated with such a prestigious organization. Yet, it was not until I attended the Annual Conference in October and met other 30 Under 30 awardees that the magnitude of the experience really hit me. 
Walking into the NAAEE Conference for the first time was not what I expected. There was not an air of tedium or exclusiveness that sometimes accompanies big events; but rather there was humor, warmth, and an atmosphere of genuineness that made me feel instantly connected. I knew I was amongst quirky, passionate educators like myself and it made me wish I had been attending this conference for years earlier.  
Throughout the next four days, my expectations continued to be surpassed. From deep, meaningful concurrent sessions to moving speakers who make you want to achieve more, this conference made me overwhelmingly excited about my future in environmental education. It also provided insight into ways to revamp my current work to be more inclusive, goal-oriented, and assessable. 
With that being said, the best part of my experience with NAAEE was meeting the other 30 Under 30 awardees, many of whom came from around the world. It was neat to be with other young adults from Taiwan, Malaysia, New Zealand, Canada, Paraguay, and all over the United States. These individuals are making a difference for biodiversity, ecosystems, cultures, and communities on a local and global scale. From using gardens to promote positive mental health in teens to incorporating STEM into American Sign Language, these innovative educators are inspiring and crucial to our field. 
With the IPCC Report on Climate Change being released mere hours before we arrived, there was a lingering gloom hovering throughout the conference. While it is no secret that climate change is a real and dire threat to our planet, the fact that the IPCC gave us 12 years to curb the impacts of a climate catastrophe was shocking and daunting. From large keynote speeches to small group discussions, conference attendees lamented together that small fixes are simply not an option anymore. Bold ideas and methods are the only solutions we must focus on now. We need to unite on a global scale to take back our climate together. 
While the report was alarming, the hope that I saw at the conference was real. Amongst my 30 Under 30 class, there are young people who are not giving up. They have started their own organizations to combat climate change, protect the ocean, and sustain our poles. These youth are the bold leaders our future needs and I am proud to be recognized along with them. Thank you, NAAEE, for this amazing opportunity. You have added spark to my life both personally and professionally and have given me hope for the future of our field and the planet we all share.
Rachael Rost is a 2018 EE 30 Under 30 awardee, Education Specialist at the Topeka Zoo and Conservation Center, and recently recognized as an AZA Hero by the Association of Zoos & Aquariums. Read more about Rachael here: https://naaee.org/about-us/people/rachael-rost