The Magic of Martha's Vineyard Oysters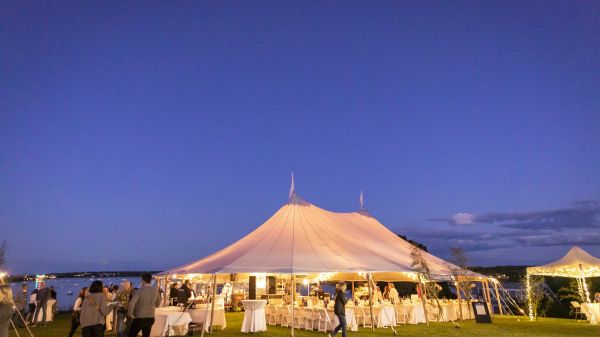 This post was written by Emma Green-Beach, Executive Director and Shellfish Biologist at Martha's Vineyard Shellfish Group, Inc.
Project partners include the Farm.Field.Sea., Martha's Vineyard Oyster Festival, Martha's Vineyard Museum, Cottage City Oysters, and NOAA Fisheries Greater Atlantic Region Fisheries Office.
Nearly three years of planning had come down to THIS ONE weekend. The pandemic was in a brief lull. The tide of crowds was just turning to ebb in October. And the weather was perfectly sunny, clean, and, crisp. The first-ever Martha's Vineyard Oyster Fest finally came together on the water-facing green of the Martha's Vineyard Museum. Sparkly and picturesque, Lagoon Pond laid out before us on its way under the bridge and to the sea.
Over the course of three days, 900 oyster lovers (and their non-oyster-loving friends) attended 11 different events and consumed nearly 16,000 briny bivalves grown on Martha's Vineyard and in southern New England. They paired oysters with the perfect wines, champagne, and whiskey, and ate cold oysters right from the hands of those who grew them. Chefs shared their culinary passions on the demonstration stage, and aquaculture advocates discussed a variety of topics from the origins of shellfish aquaculture in New England, to kelp culture, to how shellfish aquaculture can mitigate the effects of climate change. There were oysters and smiles at every turn.  
Inside, the MV Museum had curated a stunning exhibit called Stories on the Half Shell. Scheduled in cooperation with the Martha's Vineyard Oyster Fest, the exhibition celebrated beloved bivalves through stories from those who know them best of all: biologists, farmers, cooks, and even shellfish constables. Stepping into the exhibit room truly felt like stepping into my world and the life-work of several of my closest and most cherished colleagues shared through pictures and heartfelt narratives.
Amidst the bustle of event planning, bistro lights, and graceful white tents, the Martha's Vineyard Shellfish Group, an eeBLUE Aquaculture Literacy grantee, had set up the oyster education tent. Our educational theme was "shellfish aquaculture promotes biodiversity." The big banner said "Meet the Experts." Eek! We did our best to deliver.
My staff and I had prepared an assortment of shellfish education stations for fest-goers to peruse, which we hoped would elicit interest, awareness, and a tiny smidge of awe. Posters of our research, habitat restoration, and shellfish seed production flanked the tent. Three bubbling carboys of cultured microalgae glowed shades of green and brown in front of fluorescent lights. Oysters and mussels filtered a tank of green microalgae to show, in real time, the filtration power of shellfish. A touch tank held fish, crabs, and other invertebrates that we gathered from the oyster cages at the shellfish hatchery. We watched fish and mud crabs hide among the cluster of oysters and a spider crab decorated itself with a tuft of Ulva [sea lettuce], not in the mood for a party.
My favorite moment in the tent involved a well-dressed man who asked loudly, 
"So, are you growing some Frankenfish?" 
To that, I responded frankly, "No, sir. No Frankenfish." 
Well-dressed man: "GMOs?"
Me: "No, sir. No GMOs. Just plain old shellfish spawning, the old-fashioned way, with a little bit of selective breeding here and there." He looked skeptical. "Come see what we made." 
I directed him to the dissecting microscope on the table which looked over a plate of small surf clam seed. He squinted one eye to look through the lens and exclaimed a joyful, explicit expression that caused me to grin ear-to-ear. He saw the clams crawling around on the glass with their strong little feet, at just one month old. I told him that these surf clams would be grown by oyster farmers who hope to diversify their crops and increase their economic resilience. He was satisfied, and that was that. He went on to eat oysters, chat with farmers and seafood lovers, and I was left wishing I could answer all the questions with microscopes of happy little clams and the magic of Martha's Vineyard oysters. 
Oyster Fest and Stories on the Half Shell were perhaps the zenith of our project, funded by an eeBLUE Aquaculture Literacy grant. Hundreds of islanders and visitors, including Vineyard public school classes, attended the informative exhibit, Stories on the Half Shell, during a three-month period. However, Oyster Fest and the MV Museum exhibit are neither the beginning nor end of the work we do with many community partners around aquaculture literacy. We are continuously broadening our audience, venues, and approaches to community education, with the understanding that everyone tunes in to a different frequency of message and is inspired by the myriad of benefits aquaculture can provide. 
Keep up with the many ways the Martha's Vineyard Shellfish Group promotes aquaculture and engages with the community by following us on Instagram and Facebook. 
Through the NOAA-NAAEE Collaborative Aquaculture Literacy mini-grants program, NAAEE supports partnerships sharing the mutual aquaculture literacy goals of the National Oceanic and Atmospheric Administration's (NOAA) Office of Education, National Marine Fisheries Service (NMFS), and National Sea Grant Office. These mini-grants provide informal learning institutions (e.g., aquariums), aquaculture industry (e.g., shellfish, finfish, seaweed farmers), and NOAA partners with support for the co-development of innovative educational experiences that explore aquaculture topics and support the engagement and advancement of public aquaculture literacy.