Let's Keep Learning from Each Other: Help GEEP Reach 100 Country Profiles!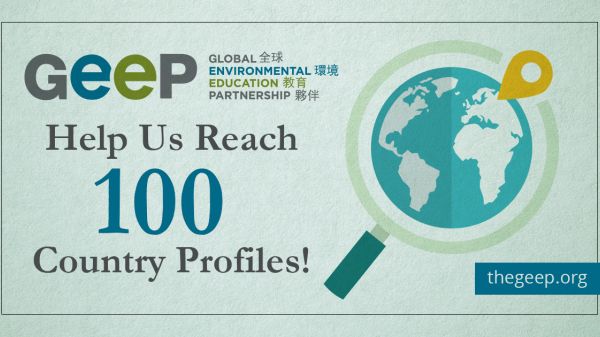 Right now, as countries around the world deal with the effects of a global pandemic, it's a reminder of how intertwined and connected we all are. We are learning minute by minute about this virus and how to adapt; what countries have done successfully, and not; what the science tells us; and what might also work in other contexts. The same is true for so many things, including our field of environmental education. As we learn from others, we continue to adapt and improve our own efforts. It's not a new concept, but it's one that is increasingly important as we address global health, environment, and social challenges.
Over the past five years, the Global Environmental Education Partnership (GEEP) has worked to build a learning network where environmental educators from around the globe can share their successes and challenges, and where we can collectively celebrate and be a champion for environmental education (EE). The GEEP country profile collection is one way we do this. By sharing what's happening in EE at the country level, we can facilitate a way for others to learn from and connect with these efforts. Whether it's a national policy, or a vibrant EE association, we hope to connect people to the great practices happening, and to the organizations leading them.
To date, we have 56 countries featured through thegeep.org. It's certainly a start, but there is so much more to learn! That's why from today through World Environment Day on June 5th, GEEP is hosting a campaign to build the country profile collection, eventually reaching 100 (and then beyond)! Please help us by spreading the word and considering submitting one yourself. And if you have an addition to any of the current countries featured, please send that to us as well! The country profiles are never complete, as EE efforts change over time, and hopefully grow.
We hope that you consider helping to build this learning network. And, as an extra incentive, we promise to feature all new country profiles submitted on our social media, and we'll credit you or your organization with the contribution.
Visit https://bit.ly/GEEPCOUNTRIES to see the country profile collection and to submit!