Interview with Satheeshkumar Kumarasingam about the Pratt & Whitney E-STEM Awards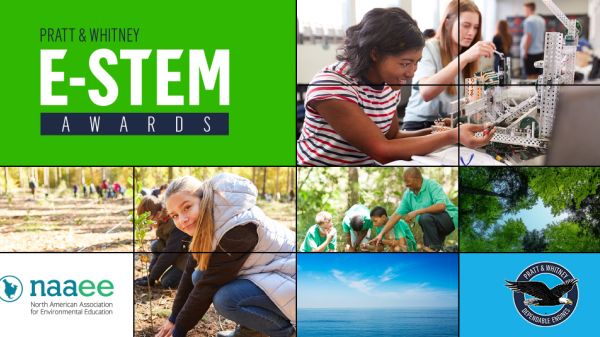 The North American Association for Environmental Education (NAAEE) has joined Pratt & Whitney in its quest to inspire the next generation of E-STEM innovators around the world.

 

Through the Pratt & Whitney E-STEM Awards, NAAEE and Pratt & Whitney are supporting programs that engage students in meaningful STEM learning experiences through environmental problem solving with grants up to $15,000 and prizes up to $50,000! The opportunity is open to nonprofit organizations around the world that are working to increase students' environmental literacy, build STEM skills, and create pathways to environmental careers. Learn more about this opportunity and apply before July 11!

 

The NAAEE team had the opportunity to interview Satheeshkumar (Kumar) Kumarasingam, chief transformation and strategy officer at Pratt & Whitney, to learn more about E-STEM and the Pratt & Whitney Global E-STEM Awards. Read our interview below. 
NAAEE: What is E-STEM and why is it important?
Kumar: E-STEM is a critical discipline that uses skills in science, technology, engineering, and math (STEM) to solve environmental challenges. Given the challenges our planet faces today, all of us need to elevate E-STEM education as a priority.
NAAEE: Why is it important to engage students in E-STEM?
Kumar: First and foremost, students around the world are demanding this kind of education. So many young people are focused on how to solve the climate change crisis that our global society is facing. E-STEM education gives students the STEM skills to solve these problems. It encourages experimentation and discovery, from testing sustainable aviation fuels to measuring the impact of CO2 on local trees. In addition, E-STEM education develops students' environmental literacy, enabling young people to engage in debate and voice their concerns in their local communities.
NAAEE: What excites you most about the Pratt & Whitney Global E-STEM Awards?
Kumar: I'm excited about the global scope of this collaboration and how the Pratt & Whitney E-STEM Awards elevate the importance of environmental education. Environmental education, in my opinion, should be a core component of education systems to help future generations innovate with the environment in mind. Imagine a world where all new technology is designed to mitigate environmental risks…or where solutions are created to solve environmental errors of the past. 
"Students around the world are demanding this kind of education."

— Kumar, on the importance of E-STEM education.
NAAEE: Why is working with NAAEE important to Pratt & Whitney? 
Kumar: At Pratt & Whitney, we are experts in advancing the future of sustainable aviation, but we also recognize the critical importance of supporting environmental wellbeing in our communities. We aren't environmental education experts, which is why we always look to strong nonprofits like NAAEE to provide their expertise. Together, we've developed an opportunity that can provide financial resources, curriculum support, and professional development opportunities to winners.  
NAAEE: What advice do you have for any organization thinking of applying?
Kumar: We encourage all nonprofits engaged in education or in sustainability to consider applying. It does not matter where you are located in the world. The best place to start is by watching the applicant webinar, which NAAEE recorded for viewing at any time.
NAAEE: What do you hope award winners will gain from this opportunity?
Kumar: I hope winners will be able to start new E-STEM education programs for young people. I hope they will take pre-existing programs and scale them to reach more students or add in new curriculum units that focus on different environmental issues. I hope winners take the opportunity to learn from NAAEE's professional development opportunities and cohort network.
NAAEE: What do you hope to see reflected in the applications and/or applicant pool?
Kumar: As a global company working with airlines and communities around the world, we hope to create cohorts of E-STEM Awardees that promote international collaboration. Each cohort will be able to advance their impact with additional funding, of course, but they will also receive professional development opportunities from NAAEE and opportunities to connect and bounce off ideas with one another. Creating this sort of experience at an international scale is another key way that we can help advance E-STEM education in all geographies.
Click here to learn more and apply to the Pratt & Whitney Global E-STEM Awards 
Applications are due July 11, 2022, at 11:59 PM U.S. Eastern Time. For inquiries, contact estem@naaee.org.