Happy 5th Birthday, eePRO!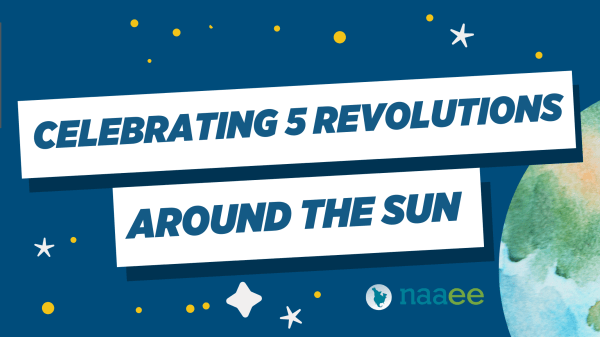 This January marks the fifth anniversary of NAAEE's eePRO platform, the community hub for environmental education (EE) professionals! We're celebrating five years of advancing environmental education with a platform to network and engage with peers in the field, share and find relevant resources, learn about grant opportunities, search for professional development opportunities, and more. eePRO also has a robust jobs database, serving both employers and job seekers. The best part? eePRO is free and anyone can join! Learn more about eePRO in this NAAEE Bright Spot.
How to Get an eePRO Account 

If you are not an NAAEE member or don't have an eePROfile, you can create a free account. Start here: https://naaee.org/user/login.  Follow the instructions to create a profile. Don't forget to join Groups you are interested in!
Please check out our social media channels throughout 2021, as we share the most insightful and engaging content from our members, introduce an exciting new eePRO Group for Young and Emerging Professionals, and share opportunities to win fun prizes! Put on your party masks and follow @theNAAEE on Instagram, Facebook, and Twitter, and celebrate with us! 
With all this talk about social media platforms, eePRO is more relevant than ever. 
Let's recap some of our strengths:
We'll amplify your content: Whether you're just transitioning into the EE space, are a long-time expert, or simply find your field to occasionally overlap with EE, we want you to share on eePRO! Your content will be shared irrespective of how expansive or niche it is. We aim to be a space you can grow in, to find your own voice and ideal area of contribution.
We ensure accessibility by captioning our webinars, adding text descriptions to photos, and continuing to work on additional design considerations.
We provide a safe space: We believe in setting up barriers to prevent hateful content from ever getting in. Thus, we don't allow anonymous posts. Comments aren't posted without a staff look-over. And we have paid content moderators on every forum, because we know how important the work is to creating safe spaces online.
We're ad-free: Ads distract from important content, waste energy, and are rarely fun.
And did we already mention that we are five years strong? In five years, a horse reaches adulthood, an apple tree bears fruit, and an earthworm will have gone through 86 generations. We feel just as productive, thanks to your support and contributions, and look forward to how our ever-growing community evolves!
How to Post Content on eePRO

You can submit content directly to the platform. 

Log into your eePRO account. On your profile page, you'll see the "User Menu" (lower left side).
Click on "Add Content." 
Select the appropriate category for your content: Learning, Resource, Opportunity.
Complete the form to populate your post, including contact information and tagging relevant topics and categories, then "Save." 

Our staff will review the post, publish it, and you'll receive a confirmation email. Please write eePRO@naaee.org if you need assistance.
So please stay tuned over the course of the next few months! Look for #eePROparty on social media, share with those in your network, consider what expertise you can contribute to the platform, and keep your eyes open for calls for content and opportunities to win cool eePRO prizes! 
Let's get this eePRO party started!