Coastal Perspectives in EE: North Carolina Coastal Federation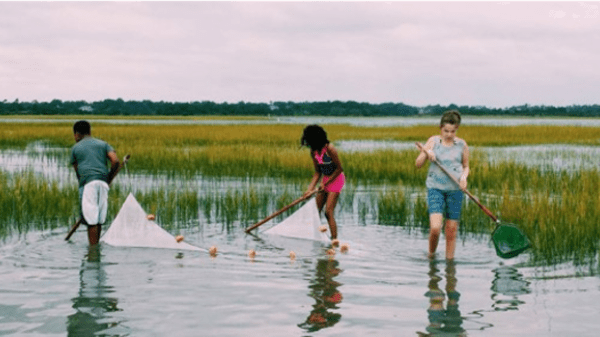 This blog was written by Kara Nunnally, eeRESEARCH Library Associate, Duke University Nicholas School of the Environment.
I had the pleasure of speaking with Rachel Bisesi, Sara Hallas, and Bonnie Mitchell, coastal education coordinators for the North Carolina Coastal Federation. They shared best practices and insights from their EE journeys at the organization and how working together builds a more resilient coast.
The North Carolina Coastal Federation was founded in 1982 with a mission of "working together for a healthy coast." The organization's primary goal is to protect and restore water quality and coastal ecosystems through cleaning coastal waters, promoting living shorelines, restoring oyster habitat, advocating for effective coastal management, and reducing marine debris. The Coastal Federation has three locations along the North Carolina coast to serve local communities better. 
Each location has a coastal education coordinator that provides programming and volunteer opportunities in school classrooms and the field for their local audience, with participants ranging from small children to senior adults. These experiences include K–12 education and teacher workshops, community group coastal discovery field trips, professional workshops for scientists and policy-makers, alternative spring breaks for college students, and Touch Tank Tuesdays. Bisesi shared that their impact is two-fold: beneficial for the local environment and beneficial for the participants because they see the results of their actions. "What we do best is linking our education programs directly to our restoration efforts. Having students and volunteers directly involved in a project that is in their community and is science-based is going to make a difference for the environment where they are." 
For K–12 EE experiences, the educators couple fieldwork with classroom lessons to align the organizations' goals to the North Carolina Essential Learning Standards for those grade levels. For example, eighth- and ninth-grade classes learn about dissolved oxygen, water quality, and salinity as part of their standard curriculum at their school. When these students participate in fieldwork with the Coastal Federation, the educators connect the classroom lesson to restoring estuaries through building living shorelines. When educators visit the classroom, playing games related to the rain garden outside or developing watershed models establishes baseline knowledge. When the students go to the field later, they understand why restoration is important and how to do it. Providing an educational experience prior to fieldwork or direct contact with the subject can increase knowledge retention, create a pro-environmental attitude, and instill positive behavior change.
"What we do best is linking our education programs directly to our restoration efforts. Having students and volunteers directly involved in a project that is in their community and is science-based is going to make a difference for the environment where they are." – Rachel Bisesi
In addition to matching with K–12 standards, the foundation of the North Carolina Coastal Federation's EE is place-based, action-based, and extended duration, meaning the curriculum occurs more than once over time and increases in content. Many studies have shown that place-based education is effective. Getting children and community members out in their local area can help develop pro-environmental behaviors and inspire future conservation actions. Because coastal resiliency work is ultimately climate change education, the hands-on and action-based approach gives participants tangible experience in combating climate change and making informed decisions.
One of the universal challenges the organization faced was the COVID-19 pandemic. Since most of the environmental programming is in-person, the educators quickly pivoted to the virtual world. North Carolina Coastal Federation launched the Distance Learning Lab to reach students and community members. Though the virtual barrier is tough for active restoration experiences in the field, the main goal is to relate the lesson plan to a restoration effort. The educators also developed hands-on, take-home learning kits for students that could be done without reliable internet or computer access to aid in their learning and application.
The strong tradition and adaptability of the Coastal Federations' EE programs have come with their fair share of challenges and lessons learned. Rather than setting an annual goal for a certain number of participants in their EE programming, the team learned it's more important to ensure that students and community members develop an appreciation for nature over time through multiple, meaningful experiences. Partnerships are also important. Like many educators, the Coastal Federation staff can sometimes spread thin and cannot always accommodate all EE requests. That's when leaning on and developing new connections can benefit both staff and participants. And finally, everyone likes to have fun! No matter the audience, the Coastal Federation staff believes programming should be flexible and include opportunities for the participants to have fun and explore while letting nature be the teacher.
Today, the only constant is change. Environmental educators and organizations like North Carolina Coastal Federation ensure that this path forward in change is more resilient by incorporating restoration in education efforts for local communities and their environment. 
Summaries Cited:
Alcock, I., White, M. P., Pahl, S., Duarte-Davidson, R., & Fleming, L. E.. (2020). Associations between pro-environmental behaviour and neighbourhood nature, nature visit frequency and nature appreciation: Evidence from a nationally representative survey in England. Environment International, 136. doi:http://dx.doi.org/10.1016/j.envint.2019.105441
Ballard, H. L., Dixon, C. G. H., & Harris, E. M.. (2017). Youth-focused citizen science: Examining the role of environmental science learning and agency for conservation. Biological Conservation, 208, 65-75. doi:http://dx.doi.org/10.1016/j.biocon.2016.05.024
Bodzin, A. M. (2008). Integrating instructional technologies in a local watershed investigation with urban elementary learners. Journal of Environmental Education, 39(2), 47 - 58. presented at the 2008/12/01/. Retrieved from https://search.ebscohost.com/login.aspx?direct=true&db=eric&AN=EJ797132&...
Chawla, L. (2018). Nature-based learning for student achievement and ecological citizenship. Curriculum and Teaching Dialogue, 20(1 & 2).
Collins, C., Corkery, I., McKeown, S., McSweeney, L., Flannery, K., Kennedy, D., & O'Riordan, R. (2020). An educational intervention maximizes children's learning during a zoo or aquarium visit. The Journal of Environmental Education, 51(5), 361–380. https://doi.org/10.1080/00958964.2020.1719022
Efird, R. (2015). Learning places and 'little volunteers': an assessment of place- and community-based education in China. Environmental Education Research, 21(8), 1143 - 1154. Presented at the 2015/11/17/. Retrieved from http://dx.doi.org/10.1080/13504622.2014.976607
Fauville, G., Lantz-Andersson, A., & Säljö, R.. (2014). ICT tools in environmental education: reviewing two newcomers to schools. Environmental Education Research, 20(2), 248 - 283. Presented at the 2014/03/04/. Retrieved from http://dx.doi.org/10.1080/13504622.2013.775220
Kelly, M. Russo. (2019). Communities, collaboration, and climate change adaptation: Case studies from coastal Maine and Oregon. Applied Environmental Education & Communication, 18(1), 68 - 78. Presented at the 2019/01/02/. Retrieved from https://doi.org/10.1080/1533015X.2018.1434024
Skukan, R., Borrell, Y. J., Ordás, J. M. R., & Miralles, L. (2020). Find invasive seaweed: An outdoor game to engage children in science activities that detect marine biological invasion. The Journal of Environmental Education, 51(5), 335–346. https://doi.org/10.1080/00958964.2019.1688226