Oregon Metro Resource Conservation and Recycling Distancing Learning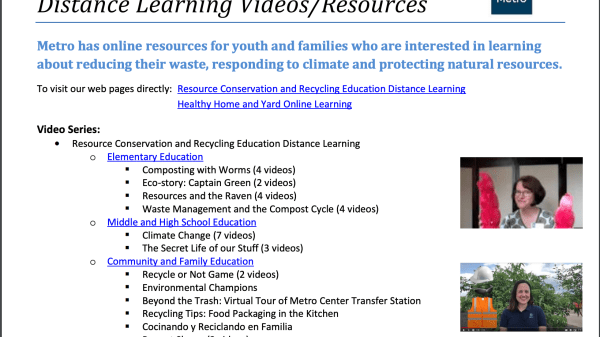 Oregon Metro has online resources for youth and families who are interested in learning about reducing their waste, responding to climate change and protecting natural resources.
From the main page there are links to the elementary, secondary, community/family, and natural gardening education pages. Also provided is a resource "menu" pdf on the main page that will be updated each month as more videos are added. Currently there are over 50 videos online, many with accompanying educator guides that include suggested post-video activities that can be done at home or school.
https://oregonmetro.gov/DistanceLearning
For more information about our programs, please contact Jamie Repasky at jamie.repasky@oregonmetro.gov.